TARANTELLA
---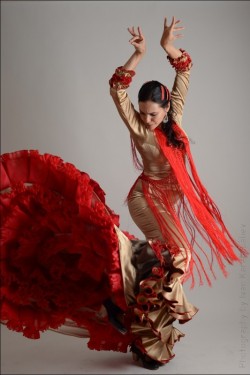 Based around the Italian legend of the "Tarantalla," dancer Fiona Malena creates a whirling, captivating show that includes both simple melodies and catchy rhythms which merge into a festive celebration, rich with Mediterranean character.
The "Tarantella" has long been embodied in music, poetry, folk dance and compositions such as those by Chopin and Liszt. Legend describes it as a "hysterical malady, marked by an extreme impulse to dance."
Beginning slowly, the Tarantella slowly unwinds until it reaches an exuberant pace of wildness, rapid rhythm and expression. Tarantella explores the impulse to dance, from the slow beginnings where shapes and concepts take root, to the rapid more spontaneous fluid movement. Musical references and folk lyrics of the Tarantella are woven throughout the performances, adapted to flamenco harmonies and rhythms, recalling the 6/8 rhythms and melodies from Naples.
Dancer Fiona Malena (Berlin/Calgary) joins forces with dancer Anastassiia La Musa (Calgary) in this lively performance rich with choreographic and musical interplay.
Sunday, July 28
3:30-5:00* p.m. TARANTELLA (Centennial Square)
*All times are approximate and subject to change without notice.
---