Peña Flamenca
---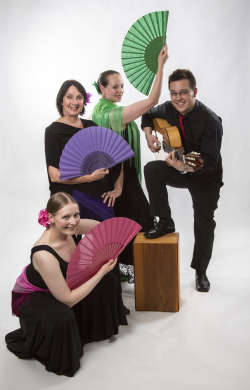 Peña Flamenca promises traditional Flamenco music and dance at its finest.  Originally formed in the year 2000 by a group of dedicated Flamenco artists in Victoria, B.C. These musicians and dancers performed regularly around Vancouver Island as well as hosting several nationally acclaimed guest artists.
In Spain, peñas are social clubs where Flamenco aficionados gather to collaborate and inspire each other. The strength of Peña Flamenca has always been in recognizing the potential of each artist and showcasing their talents within the group.
Friday, Aug. 14   
12:00-1:00 p.m. Peña Flamenca (in Centennial Square)
Wednesday, Aug. 12
7:30-8:30 p.m. Peña Flamenca is also performing in an evening show "Flamenco at the Gallery". Click here to learn more.
Click here to read more about the artists from Peña Flamenca
---