La Palabra en el Tiempo
---
"La Palabra en el Tiempo" is a phrase from Antonio Machado, humble poet, philosopher, and "old-fashioned school teacher" from Andalucia, Spain. The phrase has been translated many ways: "the word in time," "human language in which we feel time passing," or "words that pick up the energy of time," or "words that take their place, like drumbeats, in time already counted." These words are related to flamenco: tiempo is the compas, palabra is the word, either sung, spoken, strummed, or knocked out on the floor by a shoe.  "Form your letters slowly and well:making things well is more important than making them."In this performance, singer, poet, guitarist, and dancer each attempt to express "one or two humble words" in el tiempo, either solo or in collaboration.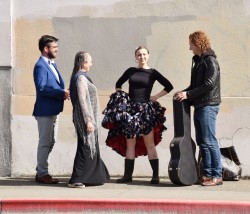 Of importance is the audience. Victoria is predominately an English city and its residents on the whole do not understand Spanish. English-language poet Garth Martens will make the brave attempt of speaking in English "la palabra" that may soak its way to dark corners, similar to the way flamenco infiltrates our thick ears and defended souls.
Veronica Maguire (singer), Gareth Owen (guitarist), and Garth Martens (poet) join Denise Yeo (dancer & artistic director) in "La Palabra en el Tiempo".
Friday, July 28
12:00-1:00 p.m. La Palabra en el Tiempo (Centennial Square)
Artist Bios for La Palabra en el Tiempo
---