---
The Letter (on-line performance)
This event is on July 20, 2022 at 5:00 pm
This short film is a love letter to our families and friends who have supported us in so many ways and to the art form of Flamenco that has given us a beautiful, heartfelt way to express our life experiences and connect with each other.
One Spring afternoon, meander through a big house and garden encountering a number of unique flamenco performances. In this story, we let the house and gardens be a metaphor for all the ways that the flamenco community has helped us to tell our stories of love, strength, connection, and, in hard times, provide support.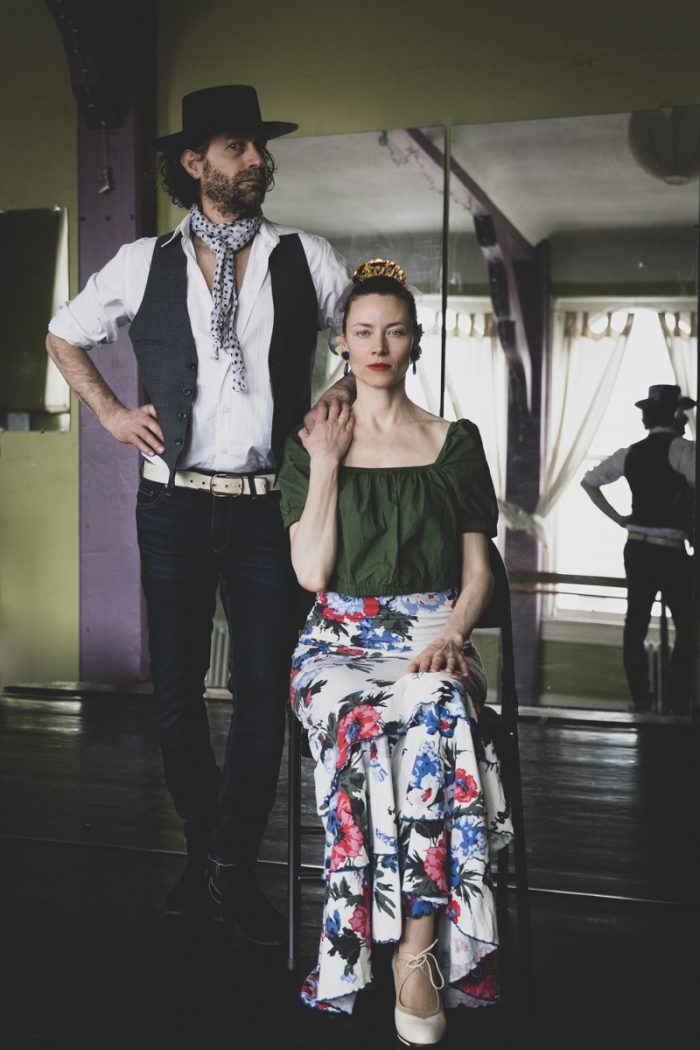 Lia Crowe
With a dance background in ballet, jazz and contemporary Lia began studying flamenco with Monique Salez and Veronica Maguire as an adult in 2005 in Victoria which led to further intensive studies in Spain. She has been performing flamenco locally ever since and has been able to share her love of this highly expressive, passionate and rhythmical art form as a flamenco teacher at Raino Dance. Working primarily as a photographer and creative director of a magazine group, whether with dance or photography, visual storytelling is at the core of Lia's creative expression.
Haida Gouchie
Haida Gouchie is a singer trained in classical & jazz music. Her passion for Flamenco lead to study of cante for Flamenco Dance & cuadro performances. Lessons with masters from Spain, Albuquerque & Canada Haida continues to learn the ancient Andalusian art form. Haida has preformed in 8 local Flamenco Festivals, is a singer for students at Raino Dance and has preformed in many shows & venues throughout Canada with local aspiring and professional artists.
Angela Moran
Originally from Niagara Falls, Angela Moran is a dancer who grew up training in various styles but as an adult her dance training in Victoria BC has focused primarily on the study of Flamenco. She has had the privilege of studying with local flamenco teachers Monique Salez and Veronica Maguire. And has deepened her love for the art through studies with world renowned flamenco artists Patricia Guerrero, Manuela Carpio, Mercedes Ruiz, La Truco and Joaquin Grilo. Angela loves expressing herself through dance and creating art to share with her community and local flamenco troupe LaLuna.
Kemi Craig
(an American-born settler of African descent in Lkwungen and W̱ SÁNEĆ territories) is a lover and student of Flamenco culture and history through the language of movement. She has studied flamenco locally and internationally for the past fifteen years. Currently an artist in residence with Dance Victoria, she is coupling media art practices with interdisciplinary movement practices of the African Diaspora. What she learns from flamenco is contemporary and historical storytelling through gestures, rhythm and communication within the collective.
Bethany Murphy
Bethany Murphy has been learning and performing flamenco since 2006, having studied with a wide range of teachers from Vancouver, Victoria, New Mexico, and Spain. She has performed in countless shows, festivals, fundraisers, and private events, and since 2017 has been an active member of the Victoria flamenco group La Luna.
Jake Lee – Flamenco Guitar
Guitarist Jake Lee began training as an accompanist for dancers in 1997 under Harry Owen and Veronica Maguire. Drawing influence from both traditional and modern sources, Jake has been a frequent collaborator with many BC artists including Rueda, Monique Salez, Alma de España, Peña Flamenca, LaLuna Flamenco, Mozaico Flamenco and Kasandra Flamenco. Performing regularly in Victoria and Vancouver, he has been a participant in the Victoria Flamenco Festival since 2013, and has performed in the several recent editions of the Vancouver International Flamenco Festival.
Dan Beer – Cajon
Percussionist Dan Beer has been working in various folk and world music genres for decades with a special interest in adapting Afro-Brazilian rhythms to the drum set. He is also at home on the cajon (peruvian box drum used in flamenco), and is currently focussing on its role in the acoustic latin jazz trio.
Darren Hull – Videographer
Darren Hull is an editorial and commercial photographer that has earned a reputation as one of Canada's top image makers with work informed by a strong sense of storyline.
Having studied the art from from a very young age. He started his career in Winnipeg, Manitoba, but eventually moved west to open a studio in Vancouver where he earned a reputation for shooting graphic, evocative portraiture and editorial photography. Now based in Kelowna, BC, Darren captures innovative images for global and local clients.
Patience, practice and persistence are commonalities found in his work with a foundation based on 25 years in the industry
---