---
Take My Hand
This event is on July 23, 2021 at 6:00 pm
Flamenco Borealis (www.flamencoborealis.com), a Saskatoon Flamenco dance and music company and a nonprofit, is dedicated to exploring the vast possibilities of flamenco art and staging performances which like the Northern Lights (Aurora Borealis) are unpredictable, dynamic, grandiose, mysterious, brilliant and poetic. Flamenco Borealis founding artists Lina Kazan and Daniel Regnier share both a deep commitment to the intense expressivity of flamenco and a common approach to artistic work. A full realization of the contrasts between structure and freedom, exteriority and interiority, movement and stillness, is one of their chief goals. The company promotes the outreach and appreciation of Flamenco by organizing regular educational programs. Most recently, the company and its founding members have tirelessly worked to bring the Borealis Flamenco Festival to the City of Bridges.
Flamenco Borealis presents this flamenco film, a poetic exploration in image, movement, and sound, of the human need to connect with others.
The theme of human connections expressed in this performance is inspired both by the general state of human relations in a time when many traditional social structures have been swept away, as well as by the recent period of social distancing.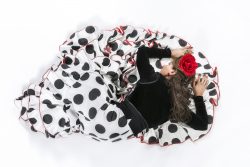 Meet the artists:
Lina Kazan
Co-founder and dance director of Flamenco Borealis, Lina is an established Flamenco artist based in Saskatoon with strong ties to Spain and Andalusia. Recipient of multiple grants as the principal dancer of her company, she travels to Spain regularly to deepen her inspiration and learn from the masters. She performs frequently with her company in established venues and at important events like the Jazz Bassment, the Saskatchewan Jazz Festival, The Saskatchewan Wearable Art Galas, Shakespeare on the river, The SK Arts award Gala, and the Borealis Flamenco Festival. In 2018, Lina resided in Seville for a year where she advanced her studies in Flamenco dance. She actively seeks to grow the Flamenco community and the appreciation for the art through teaching and organizing the Borealis Flamenco Festival. Her love for and understanding of Flamenco reached new heights especially when she started developing her own choreographic work and style. For her, Flamenco has become a powerful medium of artistic expression. Originally born and raised in Lebanon, she often draws on her Arabic roots to give her dance authenticity and intuitiveness.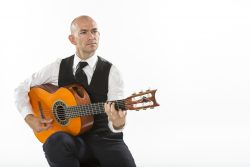 Daniel Regnier
Co-founder and music director of Flamenco Borealis, Daniel Regnier is a multi-instrumentalist and composer, and an established Flamenco musician based in Saskatoon. Trained extensively in western classical piano and composition (in Russia and Paris), Daniel now devotes his creative energies primarily to flamenco and world music. He studied with a number of important flamenco guitarists in Seville (at Fundacion Flamenco Cristina Heeren and Artes Escencicas Rebollar). Active mainly as guitarist and pianist, Daniel also plays other non-western instruments including the Arabic oud. Daniel's work as a guitarist is driven by a love of both the brilliant expressivity and contemplative capacity of flamenco music. He also has training in contemporary music production (mixing, mastering and scoring to film). He regularly performs with his company and is the chief composer and musician of Flamenco Borealis' productions.
Celedonio Garrido: Celedonio spent his childhood surrounded by Flamenco. His grandfather, who was well known in a little town in the South East coast of Spain, Moguer, had been singing Fandangos since he was a teenager (1945). With different styles and always very close to the roots, his grandfather transmitted to him the love of the true Fandangos and taught him to recognize and appreciate the beautiful communication between the heart and the voice. Always singing for dancers which are mostly from out of Spain, Celedonio has a strong control of the structure of flamenco dance and continuously explores the relationship and the connection between music, rhythm and movement. His love for Flamenco music, song and dance nourishes his singing style with a unique sensitivity to the dancer and harmony with the dance moves. Celedonio ́s voice is a distinctive combination of soft woody timbre and powerful vocal projection. He has been performing in a number of countries and events for the last seventeen years.
---