---
QADAR: A date with Fate
This event is on July 23, 2022 at 7:30 pm
QADAR: A date with Fate
Live Flamenco music and dance theatre production by Flamenco Borealis
SYNOPSIS: The art of tasseography or reading one's fate in the remnants of a drink from a cup, is believed to originate from China and is centuries old. This tradition traveled to the Middle East and people started reading fortunes in the grinds of a Turkish/Arabic coffee cup, centuries and centuries ago. The vague images formed on the sides and bottom of a coffee cup are symbols that reveal something about the person and show things that might happen, or not happen, in the future.
Lina receives a bad fortune in the reading of her coffee cup. She laments and struggles with this unhappy fate. A fortuitous meeting with another woman, Maria, opens possibilities for coping with the realities she faces. Through companionship and exchange with this sister soul, Lina finds new avenues to freedom, hope and empowerment. The appearance of a youthful girl recalls the generosity and bounty of the universe. Fate is no longer destiny, but only those aspects of the world which are not in our power.
Masks are required for all audience members at all times during this live event. Please bring your own mask to the event.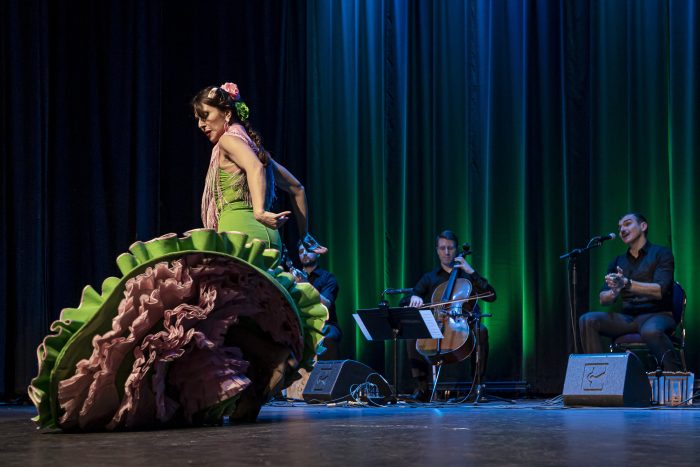 Meet the artists:
Flamenco Borealis
Flamenco Borealis (www.flamencoborealis.com), a Saskatoon Flamenco dance and music company and a nonprofit, is dedicated to exploring the vast possibilities of flamenco art and staging performances which like the Northern Lights (Aurora Borealis) are unpredictable, dynamic, grandiose, mysterious, brilliant and poetic. Flamenco Borealis founding artists Lina Kazan and Daniel Regnier share both a deep commitment to the intense expressivity of flamenco and a common approach to artistic work. A full realization of the contrasts between structure and freedom, exteriority and interiority, movement and stillness, is one of their chief goals. The company promotes the outreach and appreciation of Flamenco by organizing regular educational programs. Most recently, the company and its founding members have tirelessly worked to bring the Borealis Flamenco Festival to the City of Bridges. In 2021, they conceptualized, created, and performed in award winning dance film TAKE MY HAND. Flamenco Borealis has been the recipient of numerous grants by the SK Arts and the Canada Council for the Arts.
Lina Kazan (Dancer/Choreographer)
Co-founder and dance director of Flamenco Borealis, Lina is an established Flamenco artist based in Saskatoon with strong ties to Spain and Andalusia. Recipient of multiple grants as the principal dancer of her company, she travels to Spain regularly to deepen her inspiration and learn from the masters. She performs frequently with her company in established venues and at important events like the Jazz Bassment, the Saskatchewan Jazz Festival, The Saskatchewan Wearable Art Galas, Shakespeare on the Saskatchewan, The SK Arts award Gala, and the Borealis Flamenco Festival. In 2021, Lina created and performed in the award-winning dance film TAKE MY HAND, in collaboration with Daniel Regnier. She is presently working on a new music and dance Flamenco production, QADAR, that will be premiered in Saskatoon in April 2022 and will include a line up of local and international artists. In 2018, Lina resided in Seville for a year where she advanced her studies in Flamenco dance. She actively seeks to grow the Flamenco community and the appreciation for the art through teaching and organizing the Borealis Flamenco Festival. Her love for and understanding of Flamenco reached new heights especially when she started developing her own choreographic work and style. For her, Flamenco has become a powerful medium of artistic expression. Originally born and raised in Lebanon, she often draws on her Arabic roots to give her dance authenticity and intuitiveness.
Daniel Regnier (multi-Instrumentalist/Composer)
Co-founder and music director of Flamenco Borealis, Daniel Regnier is a multi-instrumentalist and composer, and an established Flamenco musician based in Saskatoon. Trained extensively in western classical piano and composition (in Russia and Paris), Daniel now devotes his creative energies primarily to flamenco and world music. He studied with several important flamenco guitarists in Seville (at Fundacion Flamenco Cristina Heeren and Artes Escencicas Rebollar). Active mainly as guitarist and pianist, Daniel also plays other non-western instruments including the Arabic oud. Daniel's work as a guitarist is driven by a love of both the brilliant expressivity and contemplative capacity of flamenco music. He also has training in contemporary music production (mixing, mastering and scoring to film). He regularly performs with his company and is the chief composer and musician of Flamenco Borealis' productions. In 2021, Daniel created and performed in the award-winning dance film TAKE MY HAND, in collaboration with Lina Kazan. He is presently working on a new music & dance Flamenco production, QADAR, that will be premiered in Saskatoon in April 2022 and will include a lineup of local and international artists.
Celedonio Garrido (Vocalist)
Celedonio spent his childhood surrounded by Flamenco. His grandfather, who was well known in a little town in the Southeast coast of Spain, Moguer, had been singing Fandangos since he was a teenager With different styles and always very close to the roots, his grandfather transmitted to him the love of the true Fandangos and taught him to recognize and appreciate the beautiful communication between the heart and the voice. Celedonio has a strong control of the structure of flamenco dance and continuously explores the relationship and the connection between music, rhythm, and movement. Celedonio ́s voice is a distinctive combination of soft woody timbre and powerful vocal projection. He has been performing in several countries and collaborating with many artists and companies worldwide. His most recent achievements include vocal interpretation in award winning Flamenco film TAKE MY HAND by Flamenco Borealis, artistic direction of and vocal interpretation in the Ancient Elements Flamenco show in Saskatoon, vocal interpretation in many productions by Flamenco Borealis (Dos Voces, Corazon Loco, Al Andalusi), participation in the Wearable Art Galas in Saskatoon, vocalist in numerous Alma Flamenca shows, participation in multiple shows and CD recording by Calgary Flamenco artists, performances in Seville in multiple venues and "tablaos", and performances in Berlin where he currently resides.
Nicholas Horlick (Percussion)
Nicholas Horlick began music at an early age, studying the piano at four years old in the town of Porcupine Plain, Saskatchewan. Nick began exploring percussion just before moving to Saskatoon in 2002 and has never looked back since. He participated in a variety of auditioned and honour ensembles, including Junior East Winds, Saskatchewan Honour Band, Saskatchewan Honour Orchestra, and Saskatchewan Youth Orchestra, serving as principal percussionist for the latter group in two of his four years there. While attending the University of Saskatchewan, Nick was a member of the music department's percussion ensemble, as well as the auditioned University of Saskatchewan Wind Orchestra. He also completed his Royal College of Music Grade 10 in piano at this time, along with studies in music history and music theory. In addition to classical music, Nick played jazz drums at his high school Aden Bowman, with local finger-style guitarist Lorne Deighton, and in the TD Canada Trust Jazz Intensive, working with members of the New York-based group Outer Bridge Ensemble. He has also drummed for multiple rock and heavy metal bands, including Antania, and played pop and motown with classmates in the University of Saskatchewan's College of Law band The Dissent. Nick was first introduced to hand drums in a workshop with Master Drummer Joseph Ashong at a summer camp and was asked to play djembe and junjung in his African drumming group shortly after. Since then, he has learned multiple other instruments, including the bodhran, bongos, cajon, congas, doumbek, and is currently studying tablas. Nick first joined Flamenco Borealis for their 2016 production Al-Andalusi and has performed with them multiple times since. Nick works as a lawyer at MLT Aikins LLP, practicing primarily in tax dispute resolution.
Maria Regnier (dancer/choreographer)
Maria spent her childhood and young adulthood dancing various forms of dance. When she discovered flamenco at the age of 19, she took the love of dance to this new art form and continued to follow her path of understanding and growth in this deeply rooted cultural genre. She began studying and performing with Alma Flamenca in Saskatoon and when she relocated to Calgary, she worked with Salero Calo for over 10 years performing in tablao shows. She has travelled to Spain numerous times to study and learn from many great flamenco artists including Rafael Campallo, Juana Amaya and Farruquito to name a few. Maria is an established member of the flamenco community in Calgary and regularly performs with Flamenco Jaleo and Music group Notas de 4. Maria has been fortunate to be invited to perform in the Calgary International Flamenco Festival, the Saskatoon Borealis Flamenco Festival, Chinook Blast Winter Festival, Arts Expeditions at the Arts Commons and Expo Latino in Calgary. She also has had the opportunity to work with many local, national, and international flamenco artists. Maria spends her days as a teacher in a Spanish bilingual school where she shares and promotes the love of Spanish culture with her students.
Scott McKnight (Cello)
Cellist Scott McKnight is an active performer and teacher in Saskatoon and throughout Saskatchewan. Though classically trained, he performs in a variety of styles, from baroque to jazz and rock. He is a member of the Saskatoon Symphony Orchestra, where he currently sits as acting principal. In addition to the SSO, Scott performs with many groups including Elixir Ensemble, the Regina Symphony Orchestra, and Prairie Virtuosi, of which he is also co-director. Regular festival appearances include Ritornello, Prairie Cello Institute's CelloDrama, Strata Festival, and Saskatchewan Jazz Festival. You can also find Scott under the stage, playing for productions of Saskatoon Opera, Persephone Theatre, and Shakespeare on the Saskatchewan. He frequently solos with choirs throughout the province including the Chamber Singers and the Greystone Singers. Originally from Ontario, Scott is a former member of the Ottawa and Guelph Symphony Orchestras. In addition to performing, he maintains a large private studio and teaches with the Saskatoon Suzuki String Program. He is a sessional lecturer at the University of Saskatchewan, adjudicates at local music festivals throughout the province, and is co-director of Sistema Saskatoon. Scott holds a master of music degree in cello performance (University of Ottawa), a bachelor of music in cello performance and a chamber diploma (Wilfrid Laurier University).
---
---