---
"Flamencodanza"
This event is on July 22, 2021 at 6:00 pm
"Flamencodanza"* is a show with freshness and elegance, created at a time when we want to start going out again, to see performances and learn about new cultures and ways of doing. Aylin Eleonora Bayaz's Flamenco dance consists of elegance, strength and sensitivity.
The project has the participation of Taylan Polat, "Flamenturco", who delights us with his own style of music, a fusion with an artistic and natural character, and Raul Mannola, a talented guitarist in the crossroads of Flamenco and Jazz.
*Please note that the name of this show has changed from "Libre".
AYLIN ELEONORA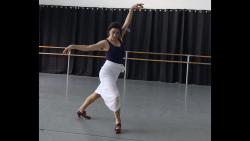 Contemporary Flamenco dancer based in Madrid. Aylin holds a Master ́s in Dance from the Institute of the Arts Barcelona / Liverpool John Moores University, 2018: in her degree she focused on choreography.
She has studied Flamenco dance in Andalucia and Madrid, Lupe Gómez (Soloist of the Spanish National Ballet) being one of her most important teachers. She tours regularly with her duo project VIVIR Flamenco Guitar & Dance, performing at the Avignon and Edinburgh Festivals, the Czech Republic, Finland, Australia and New Zealand. She participated in the 75th and 76th Dance-Forms International Choreographers Showcase in Edinburgh (2018, 2019). She tours internationally with the group ENSUEÑO FLAMENCO, an ensemble with some of the top artists of the current Madrid Flamenco scene. One of her latest collaborations was with Flamenco guitarist Antonio Sánchez, nephew and second guitarist of late Paco de Lucía.
She was invited to choreograph a Flamenco piece for the pre-professional and professional dancers of the Hartford Ballet (Hartford, USA) in September 2020.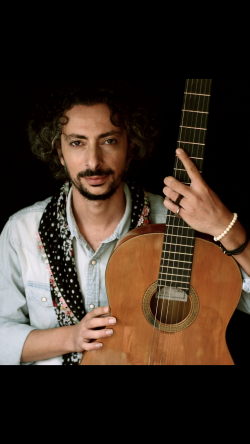 TAYLAN POLAT "FLAMENTURCO"
Taylan Polat was born in Turkey, from the age of five he lived in Istanbul. There his interest in music began, and he began to play the guitar when he was 15 years old. Later on he moved to Córdoba to study flamenco guitar at the Superior Conservatory of Córdoba, where he currently teaches Flamenco guitar. Polat is a flamenco guitarist, self- taught composer, Turkish singer and creator of a very personal style called "flamenturco" with which he interprets traditional songs from his culture and his own songs – a fusion of Turkish music with flamenco. He holds a Master ́s degree in Flamenco (Universidad de Huelva, 2019).He published his first flamenco guitar album entitled "La Vida Nueva" in 2014, with the collaboration of Erkan Oğur and Eduardo Trassierra. He has participated in the Soujournposse Festival "East meets west" in London, "Cosmopoética", International Festival "Rooted in the wind" at the Avanti Theater in Córdoba, White Night in Córdoba, Flamenco Caraval France (Narbonne, Cahors, Nantes). He gave a lecture on the fusion of arts and cultures at the University of Pavia (Italy). He performed at the African Film Festival, Almeria International Festival of World Music "Alamar". He participated in the Tangente Flamenco cycle at Gran Teatro de Córdoba, Café Cantante at Centro Flamenco Fosforito de Córdoba, Festival OFF d'Avignon with dancer Aylin Eleonora, and performs regularly at the CKM Theater in Istanbul with his band.Polat was invited and performed as exemplary artist at the reception of the Alliance of Civilizations by the foreign ministers of Spain and Turkey. Due to the originality of his work and life trajectory, he has been interviewed by various media: Canal Sur Televisión, Radio3, Diario El País, Turkish National Channel (TRT) etc.He is currently a flamenco guitar teacher at the Professional Conservatory of Córdoba. www.taylanpolat.es
RAUL MANNOLA
Raúl Mannola (Buenos Aires, 1963) is a flamenco guitarist with a jazz background, and studied under the direction of Manolo Sanlúcar. He has dedicated more than 30 years to the study of flamenco guitar, drawing on prior musical experience and focusing especially on modal flamenco. He has a deep understanding of traditional flamenco combined with extensive general musical knowledge. He has worked with leading flamenco singers, such as Rafael Jiménez "Falo", Antonio Porcuna "El Veneno", Enrique Bermúdez "Piculabe" and Manuel Lorente, as well as with top-class flamenco and jazz musicians, such as Antonio Rey, Alfredo Lagos, Jorge Pardo, Jukka Tolonen, Andreas Öberg and Raoul Björkenheim. He has released 10 solo albums. His album Inner Visions of Flamenco is considered by international critics and fellow musicians to be one of the most significant works in the field of experimental flamenco. He has worked as a flamenco guitar teacher at the Arturo Soria Professional Conservatory of Music in Madrid since 2011.
---