---
La Caramelita – Penas y Alegrías (on-line performance) – Cancelled
This event is on July 18, 2022 at 7:00 pm
Unfortunately this event has been cancelled. The Victoria Flamenco Festival regrets any inconvenience or disappointment.
"Penas y Alegrías" is a passionate, high energy flamenco show. Showcasing different flamenco "palos" or styles, "Penas y Alegrías" combines tradition with more modern sounds. The melancholic and poignant soléa as well as the light and playful alegrías are some of the flamenco styles used in this production. The thunder of the taconeo unites with the jaleos and the syncopated rhythms of the guitar to offer you a moment of sensuality and passion.
Cuadro "La Caramelita" has established themselves as a dynamic group, anchored in flamenco tradition but willing to bring a personal and modern touch to their productions. "Penas y Alegrías" is the perfect example of a tablao show where the artists move intricately between improvisation and set pieces, leaving room for surprise and a unique experience for the audience.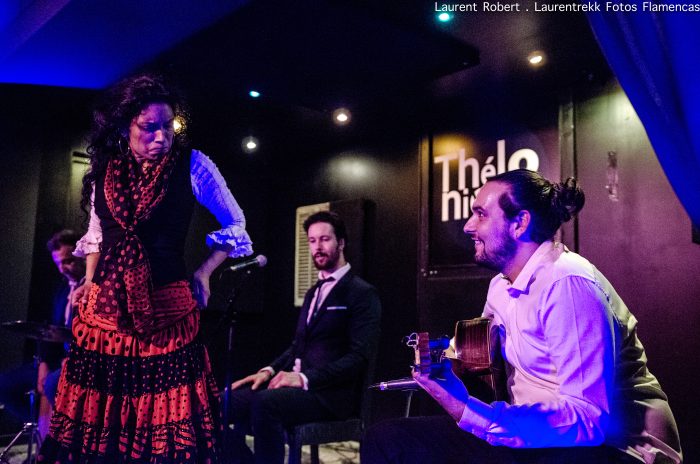 Meet the artists:
DEBORAH "LA CARAMELITA"
For over 10 years Deborah "La Caramelita" has enchanted international audiences with her unique style of dance. Deborah's arresting movements take inspiration from the sensuality in flamenco, latin passion and her Indian heritage.
The versatility of this young dancer has taken her worldwide (Ecuador, Portugal, Canada, Spain, Malaysia, Russia, Morocco, France, Switzerland) alongside renown artists and in an array of events.
Deborah "La Caramelita" began her flamenco journey in Vancouver, at Centro Flamenco's professional dance program founded by Rosario Ancer. Deborah was the youngest dancer to be accepted into the training program. Her passion lead her to Andalucía where she studied with exceptional dancers such as Juana Amaya, Andres Peña, Carmen Ledesma, Juan Polvillo, Mercedes Ruiz and Manuela Carpio. After having lived and studied intensely in Andalucía for several years, she often returns to perfect her art with renowned masters of flamenco dance.
With respect to her Indian heritage, Deborah "La Caramelita" has created many parallels to these rich origins in her dance. In her most recent production, NRITYA, she reconnects with her past by integrating the influences of classical Indian dance into flamenco. NRITYA was toured in France and in Western Canada in 2019 (Festival Arte Flamenco in Mont de Marsan and Vancouver International Flamenco Festival).
Deborah "La Caramelita" along with the flamenco/balkan fusion group, "Les Noces Gitanes" introduced new audiences to flamenco at the 2016 Winnipeg, Calgary and Vancouver folk festivals where their shows reached over 15 000 spectators. Other productions that Deborah has performed in include the opening of the Rolex Trophy in Geneva, the festival and social-cultural project "Pacha Uchuk" in Ecuador, the Western Canadian tour of "Mis Hermanas" (winner of the 2009 Isadora Award for Excellence in Choreography), multiple tours with Fin de Fiesta Flamenco, as well as international flamenco festivals in Europe and in North America.
She is now based in Bordeaux where she performs regularly with her cuadro.
ALEJANDRO UGARTE MENDIA
Alejandro Mendía started his flamenco cante studies in 2007 in Sevilla at the renowned flamenco academy of Christina Heeren. After completing intensive study of cante, compas and flamenco history classes, he continued his studies with Esperanza Fernandez, Niño de Elche and Encarna Anillo. After only a few months in Sevilla he was asked to participate in the televised talent series "Tienes Talento" and placed as a semi-finalist. Alejandro's relocation to Jerez brought a new facet to his singing as he began to accompany dance classes (Manuela Carpio, Ana Maria Lopez, Chiqui de Jerez). In Spain, he has performed in several important locations including Peña Tío Jose de Paula, La Dama Juana, Peña Puerto Lucero, Taberna El Chusco and Peña La Zúa. Recent collaborations include working with rising star Lucas "El Luco", Opalo Project, Fin de Fiesta Flamenco, Qairo, and NRITYA.
Alejandro's talent has taken him all over the world. Recent tours include shows in Morocco, Ecuador, Mexico, Canada, Malaysia, France and Switzerland. Alejandro currently lives in Bordeaux where he performs regularly.
MANUEL VAZQUEZ
Born in Bordeaux in 1990, Manuel comes from a Spanish family with close ties to flamenco, specifically from Malaga. His father passed on his love of music to him and at 10 years old he began to take lessons with his uncle Fernando Garcia, a great master of the guitar.
When he was eleven, his father decided to enroll him in the "Jacques Thibaud" classical music conservatory in Bordeaux, where he studied classical guitar for fourteen years with master Olivier Chassain, while continuing flamenco with his uncle. Over the years he has improved his art by touring Spain, taking lessons with great masters like Manolo Sanlúcar, José Antonio Rodríguez, Manolo Franco, among others.
Between 2010 and 2011, he participated in an exchange between the cities of Quebec (Canada) and Bordeaux where he continued his classical studies with the master Remy Boucher for a year.
After finishing his classical studies, he decided in 2014 to return to Canada with his cousin Paolo Giménez Montero (Paolo de Marbella), flamenco singer. There he began to work in the city of Montreal with guitarist Caroline Planté until he decided to be part of the flamenco group led by Pablo Escudero for three years on the coasts of Granada, where he perfected the accompaniment of the song and dance.
After the loss of his father in 2018, Manuel returned to France and began to collaborate with the flamenco company "La Caramelita" and singer Alejandro Mendía. In 2019, he joined the Bordeaux flamenco peña "Copas y Compas" where he teaches flamenco guitar.
ALEX CARRASCO
Of Spanish origin from the Castillan Santa María village, Alex Carrasco was born in 1981 near Bordeaux. With "La Caramelita" he plays mostly percussion but Alex is also a talented guitarist, singer, rapper, composer, film and music editor. At 20, he co-founded the band METISOLEA (flamenkito-electro-orient-groove) which toured internationally for over 15 years.
In 2012, he decided to move to Seville, specifically to the Triana district, to deepen his learning and live the culture that inspires him so. There he studied with maestros Ramón Porrina, Sabú Porrina and Piraña, and also singing with Esperanza Fernandez.
In 2019 Alex moved to Madrid to bring a more modern touch to his compositions and arrangements. He works there with Opalo Project (electronic-flamenco fusion) and tours with many established flamenco groups in France and Spain.
Today, he is a confirmed musician thanks to numerous concerts in France and abroad (Spain, Switzerland, Belgium, Germany, Czech Republic, Austria, …), during which he shared the stage with: Yuri Buenaventura, Ojos de Brujo, Michel Jonaz, Hocus Pocus, Eiffel, Gipsy Kings, Mano Solo, Goran Bregovic, Ketanou Street, the Cioccarlia fanfare, Ska-p, Sinsemilia.
---