---
FOR THE LOVE OF FLAMENCO (online event)
This event is on July 26, 2023 at 6:00 pm
Commissioned and performed live in the 2022 Victoria Flamenco Festival. "FOR THE LOVE OF FLAMENCO" is shown online in 2023 for your enjoyment!
A community of performing artists from Victoria BC come together to
celebrate and express, each in their own unique way, a love of flamenco that has enriched
their life in so many ways. From the deep song of the Soleá to the uplifting energy of the
Alegria, the music, song, dance and special visuals will take you on a journey filled with
emotions.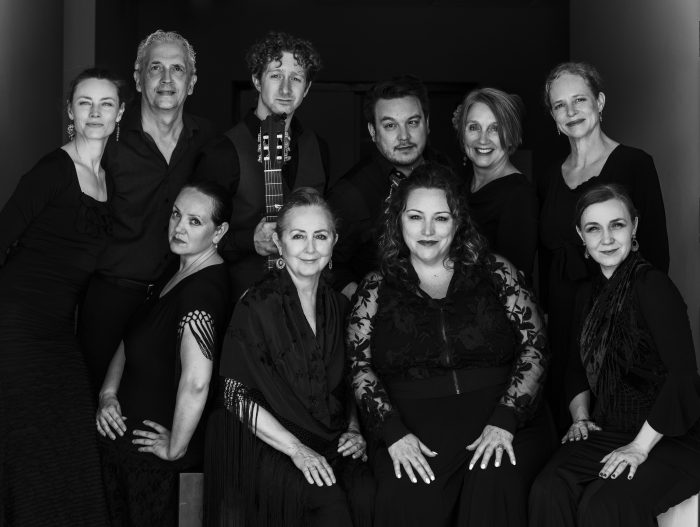 Meet the artists:
Veronica Maguire – artistic director/performer
VERONICA MAGUIRE, winner of the prestigious Jacqueline Lemieux Award for her contribution to Dance in Canada, is the artistic director and co-founder of Alma de España Flamenco Dance Company and School, established in 1991 in Victoria B.C. In a career spanning over 45 years as dancer/singer/choreographer, she has shared the stage in Canada with North American and Spanish international flamenco artists. Her longest artistic partnership was with her late husband and acclaimed guitarist, Harry Owen. Veronica continues to stay connected with her adopted hometown of Jerez de la Frontera in Spain, a touchstone for continued growth and inspiration. As a result she has produced and directed world-class productions in Victoria such as Recuerdos in 2011, and Pasajes in 2014. Veronica has performed in the Vancouver International Flamenco Festival, Dawson City Music Festival, the Victoria Flamenco Festival, the Vancouver and Victoria Fringe Festival, the Victoria Symphony, as well as performances throughout Western Canada. In 2018, as a member of Palabra Flamenco's collaborative poetry & flamenco show, she performed at the Victoria Festival of Authors. Veronica was one of six artists presented in a film A Quiet Flamenco created by Rosanna Terraciano. She has collaborated on a couple of flamenco films for the Victoria Flamenco Festival and most recently directed and performed live in Alma de España's production Familia for the Vancouver International Flamenco Festival.
Estelle Kurier – dancer
ESTELLE KURIER began her Flamenco studies in Victoria with Veronica Maguire, artistic director of Alma de España Flamenco Dance Company. Estelle has also received Flamenco instruction in Canada with Oscar Nieto, Maria Bermudez, Claudia Carolina, and Yaelisa through workshops in Victoria, Saskatoon, and Vancouver. On her many trips to Spain, Estelle has studied Flamenco in Jerez de la Frontera, Seville, and Granada during workshops with Eva Yerbabuena, Antonio el Pipa, Javier Latorre, Angelita Gomez, Belen Maya, and Rafaela Carrasco, along with private classes with Juana Amaya, Irene Carrasco, Juan Antonio Tejero, and Tatiana Garrido. Estelle has performed extensively in Victoria as a company member of Alma de España, as a dancer and singer with Peña Flamenca, and as a choreographer and dancer for Corbett & Lauchbaum at the Passion for Tango Festival and for Alboa at the Butchart Gardens and the Metro Theatre. She was also the classical Spanish dance special guest soloist for the Civic Orchestra of Victoria's "Celebrating the Performing Arts" concert and for the Strathcona Symphony Orchestra's "España" concerts in Courtenay. Estelle is a translator and private language tutor, and she is currently working on her PhD in Hispanic and Italian Studies at the University of Victoria where she teaches Spanish and Italian classes.
Carolyn Crampton – dancer
CAROLYN CRAMPTON was born and raised in Victoria and studied dance there as a child. She stopped dancing as a young adult and did not feel complete. Surprisingly and happily she found the opportunity to study flamenco at age 29 at the school of Veronica Maguire and Harry Owen. She fell in love with the music and found that flamenco dancing fed her soul and formed a means of self expression. Since then it has been a necessary part of her life. Over many years she has performed with Alma de España and Rueda at local events and has taken courses in Spain from many world renowned artists. She prefers flamenco in its traditional form performed as a quadro where the ensemble of song, dance, guitar and palmas creates dynamic and original work. She has just retired from her day job of 35 years working in health care and she hopes to share her love of flamenco for many more years to come.
Denise Yeo – dancer
DENISE YEO is a professional flamenco dance soloist and palmera appearing in tablaos across Canada. She has performed in large-scale flamenco productions Recuerdos and Pasajes for Alma de España Flamenco Dance Company. In North America, Denise has trained with award-winning choreographers Veronica Maguire, Carmen Romero, and Oscar Nieto. She has also trained with international flamenco artists, including Concha Jareño, Domingo Ortega, Maria Bermúdez, Inmaculada Ortega, Antonio El Farru, Carmen Herrera, Ana María Lopez, and more. In 2017, she co-founded Palabra Flamenco as its artistic director and principal dancer — joining traditional flamenco with English language poetry and storytelling. The show La Palabra en el Tiempo toured the Victoria Flamenco Festival, Victoria Fringe Festival, Vancouver Fringe Festival, and Victoria Festival of Authors. She later performed as a soloist for Dark Sounds, a unique collaboration with acclaimed poet Jan Zwicky, guitarist Gareth Owen, and poet Garth Martens. In 2019, her new work Fox Woman, Yeo's second production as artistic director, toured the Toronto Fringe Festival and Winnipeg Fringe Festival. As principal dancer and storyteller, she performs the roles of Fox Woman and the Hunter, with her husband, flamenco guitarist Gareth Owen, accompanying her. Recently, Denise has performed in a short flamenco film for the Victoria Virtual Flamenco Festival and the live stage production of Alma de España's Familia for the Vancouver International Flamenco Festival.
Lia Crowe – dancer
LIA CROWE – With a childhood background in ballet, jazz and contemporary dance, Lia began studying flamenco as an adult in 2005 in Victoria which led to further intensive studies in Spain. She has been performing flamenco locally ever since and has been able to share her love of this highly expressive, passionate and rhythmical art form as a flamenco teacher at Raino Dance. Working primarily as a photographer and creative director of a magazine group, whether with dance or photography, visual storytelling is at the core of Lia's creative expression.
Gareth Owen "El Cobre" – guitarist
GARETH OWEN is a world-class flamenco guitarist based in Victoria, B.C. He has shared the stage with international flamenco guitarists Jesus Álvarez and Gaspar Rodriguez Roman, and has accompanied many international artists from Spain & United States including collaborations with Canadian artists. Gareth has recorded two albums, Gareth Owen Flamenco Guitar and El Cobre. He has also appeared on Alma de España's CD, Flamenco Live. His third CD is currently in production and will be released later this year. He has performed solo concerts in Calgary, Victoria and Haida Gwaii, as well as flamenco tablao performances in Vancouver's Chai Lounge & Kino, and in Jerez de la Frontera, Spain, Tablao El Laga. He has performed in both Toronto and Vancouver International Flamenco Festivals, Dawson City Music Festival, Victoria Flamenco Festival including flamenco productions Café de Chinitas in Vancouver, and Alma de España's Recuerdos and Pasajes in Victoria. In 2015, he performed a solo concert with guest artist from Spain, Coral de los Reyes. Recently, Gareth performed in Maria Bermudez's Sonidos Gitanos Convivencia at El Portal Theatre in Los Angeles. Recently, Gareth has performed in a short flamenco film for the Victoria Virtual Flamenco Festival and the stage production of Alma de España's Familia live for the Vancouver International Flamenco Festival.
Jacob Lee "Chinito" – guitarist
JAKE LEE "CHINITO" began training as a guitar accompanist for flamenco dancers in 1997 under Harry Owen and Veronica Maguire. Drawing influence from both traditional and modern sources, Jake has been a frequent collaborator with many BC artists including Rueda, Monique Salez, the Kasandra Flamenco Ensemble, Alma de España, Peña Flamenca, LaLuna Flamenco and Mozaico Flamenco. Performing regularly in Victoria and Vancouver, he has been a participant in the Victoria Flamenco Festival since 2013, and has performed in the 2015 and 2018 editions of the Vancouver International Flamenco Festival.
Juan de Marias – singer
JUAN DE MARIAS, born in Barcelona Spain, trained in classical, flamenco guitar and cante with renowned teachers in Barcelona, Madrid, Seville, and Jerez de la Frontera. He has worked as a singer, guitar soloist, accompanist and music arranger with numerous artists in flamenco, jazz, Latin-American folklore and Eastern music, performing in Spain, UK, Chile, Canada, and the US. His music has been performed in the prestigious Palau de la Musica in Barcelona. As musical director, founding member and principle guitarist for the troupe Flamenko's formerly known as Elias Vargas and Company, Juan arranged the production Gypsy Soul which was presented for 2 years in many locations throughout British Columbia, Alberta and Saskatchewan. A Canada Council award supported professional research and study in flamenco guitar and cante (singing) in Southern Spain, inspiring his first album Mimbre. He is a regular face in Canada's Flamenco circles. He lives in Victoria where he collaborates with Alma de España Flamenco Dance Company and School teaching cante and performing regularly.
Jan Bate "Juanita" – singer
When JAN "JUANITA" BATE attended a flamenco show in the small town of Tofino in 1999, she was enchanted with the gorgeous melodies and exciting rhythms. Since then, in Tofino, Victoria, Havana, Albuquerque and Jerez, Jan has studied with cante teachers for whom she is forever indebted for their skills, inspiration and very long patience, including: Veronica Maguire and the late Harry Owen, Oscar Nieto, Luis de Pacote, Paco Peña Gasolina Hijo, Miguel Rosendo, Miguel Chavez, Matias López El Mati, Ezequiel Benitez, and Vicente Griego. Jan is also most grateful to her fellow flamencos in Victoria, and especially to Rueda, for it is only through those many hours of practice that the art of flamenco reveals itself. Hopefully there will be many more hours, for life is short and flamenco is very long.
Haida Gouchie – singer
HAIDA GOUCHIE is a singer trained in classical & jazz music. Her passion for Flamenco lead her to study cante for Flamenco dance & quadro flamenco performances. Lessons with masters from Spain, Alburquerque & Canada, Haida continues to learn the ancient Andalusian art form. Haida has performed in eight local Flamenco Festivals, is a singer for students at Raino Dance and has performed in many shows & venues throughout Canada with local aspiring and professional artists.
Lori Garcia-Meredith – Video and lighting designer
LORI GARCIA-MEREDITH's formal training is in architectural lighting design. She is a self-taught visual artist who has been practicing in some form for most of her life. Her work has, until recently, focused primarily on photography and painting the human form. One of her paintings was featured on the cover of flamenco guitarist Gareth Owen's CD, "El Cobre."
Lori has been a student of flamenco dancing since 2002 and has found the rhythm, lines and expression an endless source of inspiration. She has been involved with the Victoria Flamenco Festival since its inception in 2012. Recently, she has provided still photography for various plays by BEMA Productions and Palabra Flamenco's "Fox Woman." She has been involved with the 2021 Victoria Flamenco Festival as videographer for Alma de España's "Victoria's Flamenco Family", and the 2021 Vancouver Flamenco Festival as videographer and stage manager for Alma de España's live show, "La Familia".
---