---
Flamenco Guitar with Gareth Owen and Iminah Kani
This event is on July 25, 2021 at 5:00 pm
A performance of various flamenco palos played on guitar alongside palmas accompaniment.
Meet the artists:
Gareth Owen:
Gareth Owen blends the traditions of Flamenco guitar with his own aggressively passionate style. A talented guitarist from Canada's West Coast, he is one of the privileged few North Americans born into the world of Flamenco.
As the son of top Flamenco guitarist, the late Harry Owen, and nationally acclaimed dancer, Veronica Maguire, Gareth plays with instinct and raw intensity that comes from truly having the music in his blood. From an early age he has been immersed in the rhythms of Flamenco, performing professionally alongside his family and the Alma de España Flamenco Dance Company.
Gareth is constantly pushing himself to the very edge of his music and, within the compás, redefining that edge.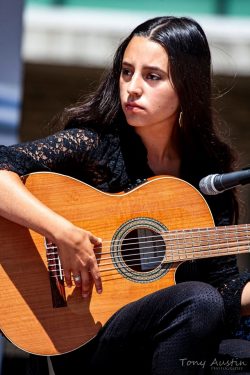 Iminah Kani:
Performer, composer Iminah Kani from Saltspring Island uses guitar as a vehicle to express her unique sonic language. As a student of flamenco guitar (studying with guitarist Gareth Owen) she blends this tradition with various other genres creating experimental guitar soundscapes. Her compositions and songwriting are seamlessly built around her flamenco style performance experience.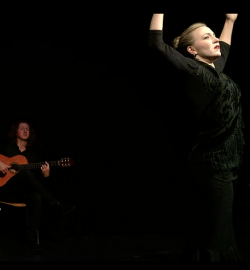 Denise Yeo:
Denise Yeo is a professional flamenco dance soloist and palmera. In 2017, she co-founded Palabra Flamenco as its artistic director and principal dancer — joining traditional flamenco with English-language poetry and storytelling. Their show La Palabra en el Tiempo toured the Victoria Flamenco Festival, Victoria Fringe Festival, Vancouver Fringe Festival, and Victoria Festival of Authors. She later performed as a soloist for Dark Sounds, a unique collaboration with acclaimed poet Jan Zwicky, guitarist Gareth Owen, and poet Garth Martens. Fox Woman is Yeo's second show as artistic director. As principal dancer and storyteller, she performs the roles of Fox Woman and the Hunter, with her husband, guitarist Gareth Owen, accompanying her. This summer, Fox Woman tours the Toronto Fringe Festival and Winnipeg Fringe Festival, with a finale in Victoria.
As a soloist, Yeo performs in tablaos across Canada. She has performed in large-scale flamenco productions Recuerdos and Pasajes for Alma de España Flamenco Dance Company. In North America, Denise has trained with award-winning choreographers Veronica Maguire, Carmen Romero, and Oscar Nieto. She has also trained with international flamenco artists, including Concha Jareño, Domingo Ortega, Maria Bermúdez, Inmaculada Ortega, Antonio El Farru, Carmen Herrera, Ana María Lopez, and more.
---