---
De Ida Y Vuelta
This event is on July 25, 2021 at 6:00 pm
"De Ida Y Vuelta" celebrates multiculturalism and the artistry of Kasandra "La China" (bxailaora) with Josue Tacoronte (guitarist/composer), Jafelin Helten (cantor), and David Garcilazo (Argentinian singer).
Kasandra Flamenco Ensemble has always enjoyed a multicultural flavour and this time will be no different as we capture video of each artist. The audience will go on a journey Queretaro city and the nature trails of Mexico and also visit the best of Vancouver's cityscape, North Shore forests and Pacific beaches of British Columbia.
World music fans will enjoy a fresh blend of Spanish Flamenco infused with groovy Cuban and Latin American rhythms with the magical dance of Kasandra "La China". Kasandra brings the music to life with the mesmerizing "Manton de Manila" silk shawl, twirling of Chinese fans, Cordobes sombrero and rapid-fire footwork. With Josue's influence from Cuba and Latin America and Jafelin's love of boleros and influence from her home Venuzuela, it is very natural to add a Latin jazz element to our Spanish Flamenco to create "De Ida Y Vuelta".
Meet the artists: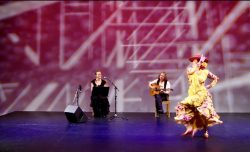 Kasandra "La China", bailaora and artistic director:
Kasandra is one of Canada's leading flamenco artists well-known for her unrelenting drive to push the artistic envelope. A tirelessly ambitious artistic director and soloist, Kasandra is always hungry for new sources of inspiration and knowledge, constantly pushing her musical and choreographic mastery to its limits. She has been identified as "Vancouver's flamenco star who has embodied flamenco with her dynamic, precise style" by Flamenco-World magazine.
A dedicated and inspiring performer, Kasandra has appeared in prestigious events with the Vancouver International Dance Festival, Vancouver Symphony Orchestra, Victoria Flamenco Festival and has performed all over BC and toured Mexico & Cuba. She has performed with international flamenco dance stars including Ivan Vargas, Jose Manuel Alvarez, Emilio Ochando, Ricardo Lopez, Maria Bermudez, Manuel Gutierrez as well as renowned Canadian artists including Irish tapper, Joel Hanna, and contemporary dancer, Alvin Tolentino, focusing on duets. She has striven to work with the highest calibre of musicians including flamenco guitarists Gaspar Rodriguez, Daniel Jurado, Miguel Angel Ramos de Puerta Real, Gareth Owen, Josue Tacoronte and flamenco singer/palmeros Miguel Rosendo, Vicente Griego & Luis de la Tota. She continues to be inspired developing a varied repertoire with her percussionist, Davide Sampaolo. She has also worked extensively with local flamenco groups including Mozaico Flamenco, Flamenco Rosario, Alma de Espana, Flamenco Vivo among others. She can be seen regularly in Vancouver's vibrant flamenco scene, especially the Chai Lounge during pandemic times which is reportedly the ONLY place across Canada one can see live flamenco in 2020-21.
Known for her explosive spirit, precise rhythmic footwork, grace and personal character, Kasandra's love of flamenco is contagious as she strives to educate new audiences and bring newcomers to the art form through her dance. Her generous spirit has nurtured dozens of seasoned and emerging dancers in the scene and has brought countless fans to the art of Flamenco.
Kasandra "La China" is director of Al Mozaico Flamenco Dance Academy with her mentor, Oscar Nieto. She is the creator and artistic director of the professional company Kasandra Flamenco, with many successful, high quality shows including "Solo Flamenco" and "Ritmo y Soniquete". An honoured recipient of Canada Council for the Arts and British Columbia Arts Council grants, Kasandra has produced shows since 2003. www.kasandraflamenco.com/shows/flamencubana/ www.mozaicoflamenco.com/classes/instructors/kasandra/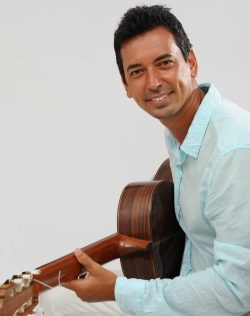 Josue Tacoronte Otero, composer and guitarist:
Josué Otero Tacoronte, is a highly acclaimed guitarist, composer and musical arranger originally from Havana, Cuba. He began his musical studies at the age of six and trained in classical piano and guitar, winning numerous national competitions. In 1997 he ventured out into playing Spanish flamenco guitar working as a composer, music director and musical arranger for the Spanish Ballet of Cuba, and Aires Flamenco Company in Havana, and also the Ballet Español Proart, Cale Bari, and Mexico Flamenco in Mexico. He has studied flamenco guitar with many maestros including Antonio Rodriguez, Pedro Sierra, Paco Jarana, Jesus Torres, José Luís Rodriguez, Eduardo Rebollar, Pedro Sanchez and Antonio Rey.
One of his most important musical achievements has been his consistent contribution on research, musical arrangements, performance and recording of the Cuban guitar repertoire that includes pieces by composers such as Leo Brouwer, Ernesto Lecuona, amongst others, crossing over into other genres such as flamenco without losing Cuban essence. He has recorded several albums including "Josué Tacoronte y Skpao", "Mexico Flamenco " and "Brouwer Flamenco" for which he was awarded "Best Concert Interpreter" at the International Festival CUBADISCO Awards, in May 2013. He toured all over Cuba, Spain, Argentina, USA, Switzerland, Austria, Morocco, France, Dominican Republic, Peru and Mexico. Josue has most recently worked on albums for Vancouver Flamencos Javelin Helten and Farnaz Ohadi. www.josuetacoronte.com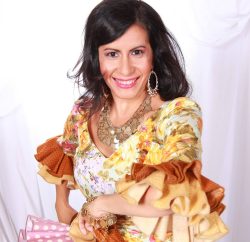 Jafelin Helten, cantaora:
Jafelin is one of Canada's preeminent Flamenco and Latin singers. She has been popular in Vancouver's flamenco scene for 20 years. In 2015, Jafelin co-produced the popular concert tour, "FlamenCubana!" where she performed with 12 great Spanish Flamenco and Cuban artists to the delight of audiences in Vancouver, Victoria and Nanaimo.
Passionate about Flamenco, Jafelin has continuously studied and collaborated with the highest caliber of Flamenco artists and aficionados from Spain and internationally to deepen her knowledge and understanding the essence of the "cante". She has the honour of being recognized and accepted as an international flamenco cantaora in Spain, a position very difficult to attain. She has performed in Peña Canaleja with Miguel Angel Ramos from Puerto Real and tabancos in Jerez de la Frontera including El Pasaje and El Guitarrón, and in Granada, Cueva Maria La Canastera.
Jafelin is the founder and international ambassador for the worldwide flamenco website ExpoFlamenco.com which promotes the flamenco art form and connects flamenco lovers and communities around the globe with more than 70,000 views a month on their website and visitors to their live store in Jerez de la Frontera. She has earned recognition in Mairena del Alcor, Spain from the Ayuntamiento de Mairena del Alcor for the work of promoting flamenco worldwide. She can be heard on Juan de Maria's "Mimbre" and her own albums "Tantos Caminos" and "Algo De Mi" and "Cantos y Memorias de mi Gente", a collaboration with the unique international Cuban band, Brisas Del Palmar, recorded in Santiago de Cuba. www.jafelin.com, www.expoflamenco.com
---