---
Change (online event)
This event is on July 25, 2023 at 6:00 pm
CHANGE
This piece is inspired by the type of change that challenges the status quo. Maybe a move to a different place, a new environment, or work on something we never expected we would do. Maybe just a new perspective. The change that can break down our lives. The change that rebuilds us again. The hopeful result of a continuous search for better prospects.
Change is inexorably tied to a timeline always moving forward. Only in our dreams can we reach out to other times and versions of ourselves to find the missing answers. Our environments grow and change with us. Change is the inevitable result of the constant search to break monotony. A chosen life.
Meet the Artists: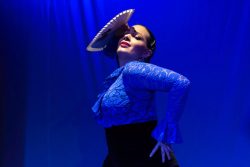 ANASTASSIIA ALEXANDER – dancer
Anastassiia Alexander is a Russian-born, Mexican flamenco dancer trained in Madrid, Spain. A versatile dancer, Anastassiia has performed in productions varying from contemporary to traditional flamenco tablaos in Canada and Mexico, including: Calgary International Flamenco Festival (Calgary), Victoria Flamenco Festival (Victoria), Fluid Festival (Calgary), Ibérica Contemporánea (Queretaro), Encuentro Internacional Al Andalus en Mexico (Mexico city), and numerous traditional tablaos in Mexico city and flamenco performances in Calgary, Canada. In September of 2020, Anastassiia was an artist-in-residence at the Good Women Dance Collective (Edmonton). Recently, she was invited to present a solo show The Machinations of Memories Suppressed at the Vancouver International Flamenco Festival 2022. After moving back to Calgary in March 2023, Anastassiia has been actively engaged in performances with HYMMMelodies world music band and her own monthly shows at the Romero Distilling Co.
LUCINDA PEARCE – videographer
Freelance Photographer & Videographer. Graphic Designer & Writer. Creative Director. Living in Calgary, AB where the Mountains grow, she works as a Social Media Manager & Content Creator for local businesses. She has always had a passion for music, dance, art & all that is natural. A relentless collector of quiet stories. She strives to take every opportunity to alchemy creative approaches in visual storytelling, to touch the heart & soul of both expresser & witness. "Art is a path of its own, if I have courage, it will lead me through anything and to everything.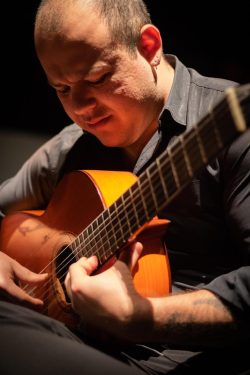 RICARDO SANCHEZ – guitarist, composer
Ricardo Sanchez is a Mexican flamenco guitarist currently located in New York. Ricardo is a sought out performer who has performed in tablaos across Mexico and now in New York. He has performed with the most representative flamenco dancers in Mexico, Ricardo Osorio "El Niño", Marién Luévano, Ana Pruneda y Ricardo Rubio, and was also part of a flamenco fusion project "Egiptanos X". He frequently performs at different festivals across the country and internationally. Some of the highlights include International Flamenco Festival in Vancouver (Canada), Cultural Festival of Zacatecas (Mexico), International Festival of Chihuahua (Mexico), Rosario Castellanos Festival in Comitán Chiapas (Mexico), and International Festival "Chimera" in Metepec (Mexico). Ricardo has also participated in various recordings, among them is the recording "Misterios Gozosos" by Mexican singer Susana Harp.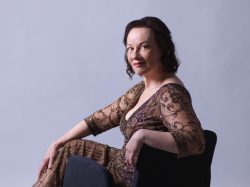 LINDA FAYE STEAD – soprano
Linda Faye Stead received international recognition for her singing and appearance in Martin Scorsese's Academy Award winning film Age of Innocence. Back in Canada, she sang in numerous opera productions in Calgary and Edmonton and performed under the baton of renowned music director Hans Graf. Linda returned to stage in 2016 performing with Calgary Concert Opera Company. In 2019, together with flamenco dancer Anastassiia Alexander she co-founded Tierra de Luz, an exciting Opera/Flamenco fusion project, which she hopes to bring back to life in the post-pandemic world.
---