Ehab Guitarista
---
Ehab Guitarista will be accompanied by the following talented musicians:
– Luis: Second Guitarist and Vocalist
– Curtis Andrews: Percussionist
– Cristian Herki: Violinist
– Emilio Suarez: Double Bassist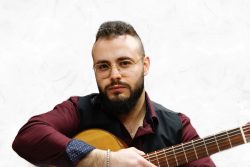 Ehab Guitarista is an accomplished guitar player with a diverse range of musical abilities and experiences. Ehab first picked up the guitar at the age of 5 and has been playing ever since.
With a passion for Flamenco music that spans multiple genres, Ehab has developed a style that incorporates elements of flamenco, jazz, blues, oriental and classical music. His musical influences include Paco De Lucia, Vicente Amigo, and Al di Miola. Ehab's playing style is described as soulful, melodic with an expressive approach.
Over the years, Ehab has played in various bands and has curated his own band based in Edmonton, Alberta. Ehab's music has been performed in a wide range of venues, including theaters, jazz clubs, and festivals. He has recorded several albums and both worked and studied with well-known producers and musicians, including Antonio Rey, Bill Bourne, Menami, and the world music band Gadjo Collective. In addition to playing guitar, Ehab is also an experienced studio musician and composer, having worked on numerous songs and instrumental pieces. Ehab has a strong understanding of music theory and is able to read sheet music proficiently.
Overall, Ehab Guitarista is a diverse, talented, and dedicated musician with a wealth of experience and passion for creating and performing music. Whether playing live on stage, recording in the studio, or creating records with others. Ehab is always striving to bring his best and inspire others through music.
---