Algunos Flamencos
---
Meet the artists:
Jan "Juanita" Bate first heard live flamenco in Tofino in 1999, and since that time she has fallen hard for this art form. Enchanted with the poetry, rhythms and melodies, Juanita has studied cante in Tofino, Victoria, Havana, Albuquerque and Jerez. She has studied with many teachers from single classes to years of study with Veronica Maguire and the late Harry Owen, Oscar Nieto, Luis de Pacote, Paco Peña Gasolina Hijo, Miguel Rosendo, Matias López El Mati, Ezequiel Benitez, Vicente Griego, Stephanie Pedraza and Coral de los Reyes. Juanita is also grateful to her fellow flamencos on Vancouver Island, for it is only through the many hours of practice that the art of flamenco reveals itself. Over the years, Juanita has performed in shows and tablaos with Rueda, Peña Flamenca, Flamenco de la Costa, and Alma de España, and she passionately produced the Victoria Flamenco Festival from 2012 – 2018.
Carolyn Crampton was born and raised in Victoria and studied dance there as a child. She stopped dancing as a young adult and did not feel complete. Surprisingly and happily she found the opportunity to study flamenco at age 29 at the school of Veronica Maguire and Harry Owen. She fell in love with the music and found that flamenco dancing fed her soul and formed a means of self expression. Since then it has been a necessary part of her life. Over many years she has performed with Alma de Espana and Rueda at local events and has taken courses in Spain from many world renowned artists. She prefers flamenco in its traditional form performed as a quadro where the ensemble of song, dance, guitar and palmas creates dynamic and original work. She has just retired from her day job of 35 years working in health care and she hopes to share her love of flamenco for many more years to come.
Kemi Craig is a local dancer who for the past 20 years has been based in the traditional unceded territories of the Lkwungen and W̱SÁNEĆ peoples. Originally from the East Band Cherokee territories (mountains of North Carolina and Foothills of South Carolina), Craig first fell in love with flamenco when Carlos Saura's film, Carmen played before Saturday morning cartoons. Over twenty years later, she had the opportunity to study flamenco beginning at both Alma De España and Raino Dance. This spring will be her fourth trip to Spain… as well as annual trips to Vancouver to study with visiting international artists. During her travels, she has been able to study with artists such as: Concha Jareño, Marco Flores, Mañuel Liñan, La Truco, Alicia Marques, Manuela Carpio, Patricia Guerrero, Andres Peña, Fuensanta La Moneta, Karen Lugo and Carmen Romero.
A member of the Black Flamenco Network, Craig enjoys learning about the ties between her own background alongside the roots and contemporary iterations of flamenco culture. For herself and her community, she seeks to find freedom, empowerment, and transcendence through deep connection and authentic expression.
Jake Lee began training as a guitar accompanist for flamenco dancers in 1997 under Harry Owen and Veronica Maguire. Drawing influence from both traditional and modern sources, Jake has been a frequent collaborator with many BC artists including Rueda, Monique Salez, the Kasandra Flamenco Ensemble, Alma de España, Peña Flamenca, LaLuna Flamenco and Mozaico Flamenco. Performing regularly in Victoria and Vancouver, he has been a participant in the Victoria Flamenco Festival since 2013, and has performed in the 2015 and 2018 editions of the Vancouver International Flamenco Festival. In addition to playing flamenco guitar, Jake is becoming known as singer and most recently was featured in "The Letter", a flamenco video presented at the Victoria Flamenco Festival 2022.
Gwyneth McIntosh – Since beginning Flamenco with Alma de Espana in 2000, Gwyneth McIntosh has studied both dance and cante with artists including Veronica Maguire, Harry Owen, Oscar Nieto, Domingo Ortega, Maria Bermudez, Vicente Griego, and Rafaela Carrasco. The process of intimate and intense artistic collaboration pulls Gwyneth to flamenco. Every moment is an opportunity to express and create something deeply soulful and dynamic, but it takes the sensitivity, knowledge, and passion of each participant to make those moments come alive.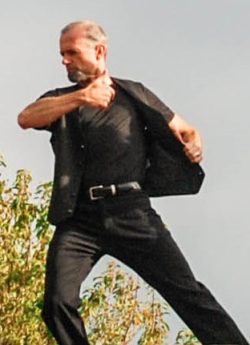 Jamie Winton started studying flamenco dance in 2006 with Dorothy Pfeiffer in Toronto. After moving to Victoria a couple of years later, he was amazed at the vibrant flamenco community that surrounded Alma de Espana and was delighted to be a part of it, and to continue his pursuit of baile with Veronica Maguire and Amity Skala, and studying guitar with Gareth Owen. Jamie loves the creative process, especially working with the group Rueda. It is the art of weaving together the cante, guitar, rhythms and dance that attracts Jamie to flamenco – the very same elements that make it equally exhilarating and challenging.
---