2021 Schedule
---
2021 Virtual Victoria Flamenco Festival is now over. Thank you for attending!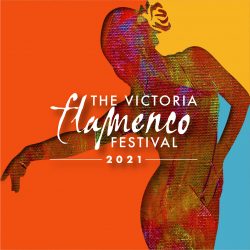 Event times are listed for the Pacific Daylight Time zone
All times are subject to change.
Each show is approximately 30-40 minutes in length.
Once each video performance has premiered on YouTube, the video will be available to view until noon on July 28, 2021.
Emerging Artist Gallery (view-on-demand for a limited time) Featuring: Rocio Rodriguez (Farruca in an Arabic flamenco style), Kara Wiebe (Seguirillas), Jhoely Triana (Cambian Los Tiempos), Sandi Berry (Alegrías), Linda Hayes Flamenco (Sabor Cubano), and Alma de España Palmas Students (palmas)
Thursday, July 22 – Traditions:
5:00 p.m. Victoria's Flamenco Family
6:00 p.m. Flamencodanza
7:00 p.m. Calle Verde – "La Faena"
8:00 p.m. Artists Q&A
Friday, July 23 – Inspiration:
5:00 p.m. Flamenco around Winnipeg
6:00 p.m. Take My Hand
7:00 p.m. Yo soy tu mariposa blanca
8:00 p.m. Artists Q&A
Saturday, July 24 – Evolution:
5:00 p.m. Classic vs Flamenco
6:00 p.m. Los Fragmentos
7:00 p.m. Compañía Fariña: Coplas en mi memoria
8:00 p.m. Artists Q&A
Sunday, July 25 – Connection:
5:00 p.m. Flamenco Guitar with Gareth Owen and Iminah Kani
6:00 p.m. De Ida Y Vuelta
7:00 p.m. Cities of Sand
8:00 p.m. Artists Q&A
9:00 p.m. Festival Wrap Party with Veronica Maguire – on Zoom
---