---
VIVIR Flamenco Guitar & Dance
This event is on July 26, 2020 at 6:00 pm
---
VIVIR Flamenco Guitar & Dance is a duo project that has been in the making for the last couple of years, with new repertory added to it constantly. Farruca, Seguiriyas, a great solo guitar repertoire and "Orobroy" by Dorantes are some of the pieces that are part of this show. The duo by Aylin Eleonora & Raul Mannola has toured in Avignon and Paris, Edinburgh, Spain, Finland, Australia and New Zealand, selling well and receiving 4 and 5 star reviews.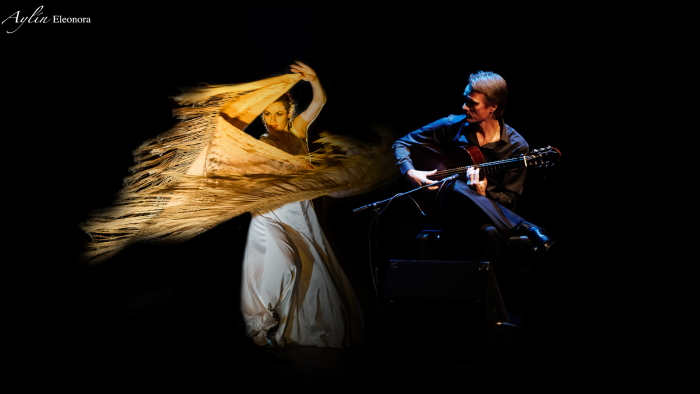 Meet the artists of VIVIR Flamenco Guitar & Dance:
Aylin Eleonora 
Flamenco dancer based in Madrid. Aylin holds a Master in Dance from the Institute of the Arts Barcelona / Liverpool John Moores University, 2018.
She has studied Flamenco dance in Andalucia and Madrid, Lupe Gómez (Soloist of the Spanish National Ballet) being one of her most important teachers. She tours regularly with her duo project VIVIR Flamenco Guitar & Dance. She participated in the  75th and 76th Dance-Forms Int´l Choreographers Showcase at the Edinburgh Festival in 2018 and 2019. She also tours internationally with the group ENSUEÑO FLAMENCO, an ensemble with some of the top artists of the current Madrid Flamenco scene. In her work you can appreciate both Flamenco and varied forms of dance.
Raúl Mannola
Raúl Mannola (Buenos Aires, 1963) is a Madrid-based flamenco guitarist with a jazz background, and studied under the direction of Manolo Sanlúcar. He has dedicated more than 30 years to the study of flamenco guitar, drawing on prior musical experience and focusing especially on modal flamenco. He has a deep understanding of traditional flamenco combined with extensive general musical knowledge. He has worked with leading flamenco singers, such as Rafael Jiménez "Falo", Antonio Porcuna "El Veneno", Enrique Bermúdez "Piculabe" and Manuel Lorente, as well as with top-class flamenco and jazz musicians, such as Antonio Rey, Alfredo Lagos, Jorge Pardo, Jukka Tolonen, Andreas Öberg and Raoul Björkenheim. He has released 10 solo albums. His latest work, the album "Transformation" with his electric Jazz-Fusion group, Aurora Clara, is receiving huge critical acclaim. He has worked as a flamenco guitar teacher at the Arturo Soria Professional Conservatory of Music in Madrid since 2011.
---