---
SOLO CANTANDO
This event is on July 23, 2020 at 6:00 pm
---
Victoria's own home grown flamenco singers, will come together to each share their own style and deeply felt song.
Singers include Veronica Maguire "Vero", Gwyneth McIntosh "La Chispa", Jan Bate "Juanita", and Mary Storzer "Maria". Guitar accompaniment by Jake Lee.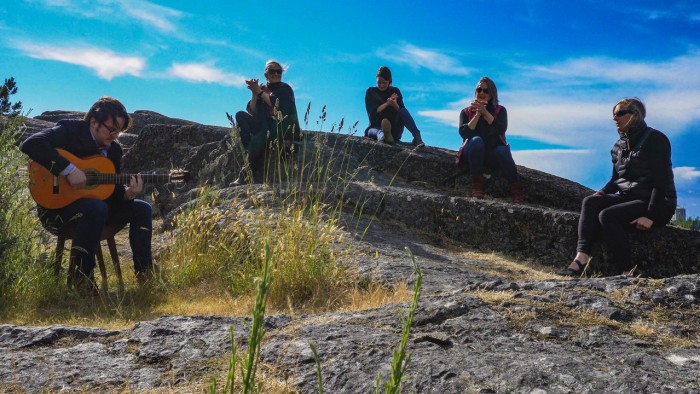 Meet the artists of SOLO CONTANDO:
Veronica Maguire "Vero" is the artistic director and co-founder of Alma de España Flamenco Dance Company and School, established in 1991 in Victoria B.C. In a career spanning over 47 years she has shared the stage in Canada with Spanish international flamenco artists as well as North American artists. Her longest artistic partnership was with her late husband and acclaimed guitarist, Harry Owen. Veronica continues to stay connected with her adopted hometown of Jerez de la Frontera in Spain, a touchstone for continued growth and inspiration.
Jan Bate "Juanita"
When Jan "Juanita" Bate attended a flamenco show in the small town of Tofino in 1999, she was enchanted with the gorgeous melodies and exciting rhythms. Since then, in Tofino, Victoria, Havana, Albuquerque and Jerez, Jan has studied with cante teachers for whom she is forever indebted for their skills, inspiration and very long patience, including: Veronica Maguire and the late Harry Owen, Oscar Nieto, Luis de Pacote, Paco Peña Gasolina Hijo, Miguel Rosendo, Miguel Chavez, Matias López El Mati, Ezequiel Benitez, and Vicente Griego. Jan is also most grateful to her fellow flamencos in Victoria, and especially to Rueda, for it is only through those many hours of practice that the art of flamenco reveals itself. Hopefully there will be many more hours, for life is short and flamenco is very long.
Gwyneth McIntosh "La Chispa"
Since beginning Flamenco with Alma de Espana in 2000, Gwyneth McIntosh has studied with artists from North America and Spain including Veronica Maguire, Harry Owen, Oscar Nieto, Domingo Ortega, Maria Bermudez, Vicente Griego, and Rafaela Carrasco. The process of intimate and intense artistic collaboration pulls Gwyneth to flamenco. Every moment is an opportunity to express and create something dynamic, but it takes the sensitivity, knowledge, and passion of each participant to make those moments come alive.
Mary Storzer "Maria"
Drawn to the raw emotions expressed in flamenco, Mary Storzer has been studying flamenco since 1997. During that time, she has had the good fortune to learn from many incredible artists from North America and Spain, including Ezequiel Benitez, Veronica Maguire, Angel Munoz, Oscar Nieto, Domingo Ortega, and Harry Owen.r
Jacob Lee "Chinito"
Guitarist Jake Lee began training as an accompanist for dancers in 1997 under Harry Owen and Veronica Maguire. Drawing influence from both traditional and modern sources, Jake has been a frequent collaborator with many BC artists including Rueda, Monique Salez, the Kasandra Flamenco Ensemble, Alma de España, Peña Flamenca, LaLuna Flamenco and Mozaico Flamenco. Performing regularly in Victoria and Vancouver, he has been a participant in the Victoria Flamenco Festival since 2013, and has performed in the 2015 and 2018 editions of the Vancouver International Flamenco Festival.
---