---
Interoception
This event is on July 24, 2020 at 6:45 pm
---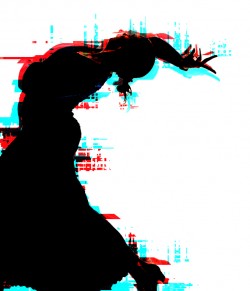 INTEROCEPTION is contemplative dissection of flamenco, where the inner connections between the artists weave an immersive improvised experience. It is a metaphor that portrays the juxtaposition between the mind of the performer and the colorful blend of emotions that arise in the thrill of the moment. In this journey, viewers delve into the inner world of a flamenco performer, which echoes through dance, music, digital painting, and video art.
This unique work has been developed for the Victoria Flamenco Festival and speaks to the creative process and improvisation that is so fundamental to flamenco.
CREATIVE TEAM (alphabetical order)
Anastassiia Alexander
Gabriele Kuzabavicuite
David Ledo
Jonathan Lewis
Ricardo Sánchez
Meet the artists of Interoception: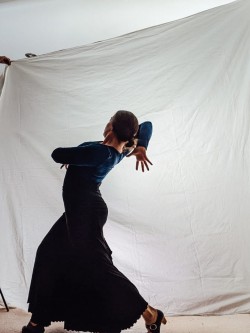 Anastassiia Alexander – dance, video art, artistic direction
Calgary, Canada
Anastassiia is a Russian-born, Mexican flamenco dancer trained in Canada, Mexico, and Madrid, Spain. Her range of expression and improvisation is demonstrated through a variety of productions including her own 12 Musas contemporary flamenco ensemble and beyond. Pushing the boundaries of flamenco, Anastassiia has integrated her work in a variety of genres, including opera, spoken word, and media art. Currently, she focuses on deconstructing and weaving together the structures of flamenco performance, which led to her recent creation De(RE)-construct: Dance (Re)-Born, presented at the Calgary Fluid Fest 2019. Anastassiia is also a recipient of Flamenco Rosario's 2019 Creative Residency and will be an artist-in-residence at Good Women Dance Collective in Edmonton fall 2020.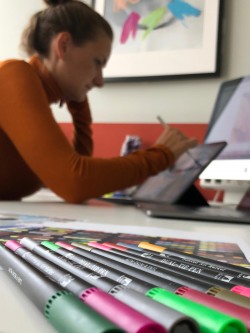 Gabriele Kuzabavicuite – digital and video art, video production
Vancouver, Canada
Gabriele is a Lithuanian digital media designer, artist, and maker based in Vancouver, Canada. She develops, implements and oversees the digital and visual design strategies for organizations. In her artistic practise, she works at the intersection of technology and traditional art. Gabriele uses digital drawing material to blur the boundaries between machine and hand-made visuals.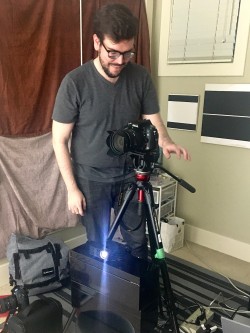 David Ledo – technical direction, video art and video production
Calgary, Canada
David Ledo is a Venezuelan-Canadian PhD Candidate at the University of Calgary in Human–Computer Interaction. David possesses extensive multi-disciplinary training, both from his formal training in computer science and design (interaction design and graphic design), as well as through his several collaborations with scientists, artists, and designers in his career. David is a recipient of many prestigious scholarships, including the Killam Fellowship and the Adobe Research Fellowship. David has worked at top institutions in Canada, the US and Europe, including Autodesk Research and Microsoft Research.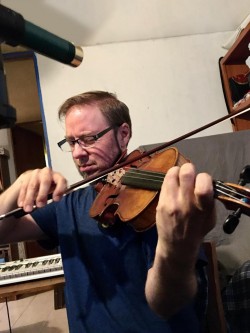 Jonathan Lewis – violin, music composition, music direction, sound production
Calgary, Canada / Mexico city, Mexico
Jonathan's musical work covers a broad range of styles, from classical to flamenco to jazz, as well as world music forms from Greece, Turkey, and elsewhere. Jonathan has also been involved in theatre for many years, as a performer, designer, and composer. His work with companies such as One Yellow Rabbit, reflects a wealth of experience in the creation of new Canadian theatre. As a music producer and recording engineer, through his company, Moxam Studios, Jonathan has recorded numerous commercial projects, as well as producing his own compositions for theatre, film, and other commercial clients. One of his recordings with Fedora Club can be heard in the recent blockbuster film, "Hustler."
Ricardo Sánchez – guitar, voice, music composition
Mexico city, Mexico
Ricardo is a Mexican flamenco guitarist and singer and a current member of INTERflamenca, contemporary flamenco company directed by Ricardo Rubio in Mexico city. The company creates variety of performances with the focus on contemporary and interdisciplinary scenic techniques. Ricardo is a sought out performer who plays in tablaos across Mexico and accompanies both with his guitar and singing. He frequently performs at different festivals across the country, Latin America, and Canada.
For more information visit:
http://lamusaflamenco.com/interoception/
---