---
Duende
This event is on July 25, 2020 at 6:00 pm
---
Four of Western Canada's rising flamenco dance artists perform at the, Kino Cafe, Vancouver's oldest flamenco tablao.
Meet the artists of Duende: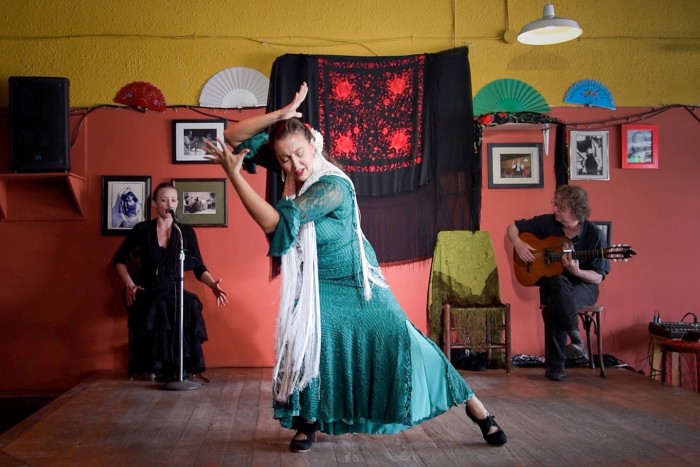 Jhoely Triana
Jhoely Triana Flamenco is a solo show featuring emerging flamenco dance artist Jhoely Triana. Jhoely trained at the Goh Ballet Academy, completed a BFA in Contemporary Dance at Simon Fraser University, and now continues her artistic development with Kasandra "La China" and Oscar Nieto at Al Mozaico Flamenco. She performs locally at the Kino Cafe, East is East Restaurant and has performed at the, Victoria Flamenco Festival, Vancouver International Flamenco Festival and the Dance Centre's 12 Minutes Max show and Open Stage show.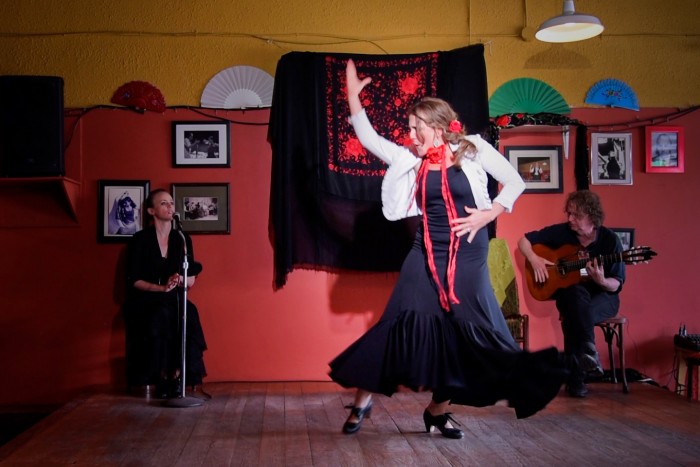 Katalina Cruz
Two-time grant winner Catalina Cruz has studied with Al Mozaico Flamenco Academy since 2003. She has studied intensively on multiple trips and has been awarded two BC Arts Council grants and a Canada Council for the Arts grant for her studies. She has taught her children's classes, as well as ad hoc classes with Al Mozaico. She has performed in the Vancouver International Flamenco festival, the Victoria Flamenco Festival, Flamenco, Tango & Wine (a feature presentation as part of the Carnaval del Sol Festival), Made in BC, "La Vitrine de la danse", The Farnaz Ohadi Ensemble, 7th Annual Jondo Festival, as well as in-theatre productions such as "Raices y alas", "Café de Chinitas; Viñetas del Mozaico", "La Tarara", Dance All Sorts-New Works, "Cuadro", Situationist International Conference: "The Spectacle of Fascism", among others. Katalina currently performs regularly at local tablaos, including Kino Cafe, Chia East is East and Cabritos.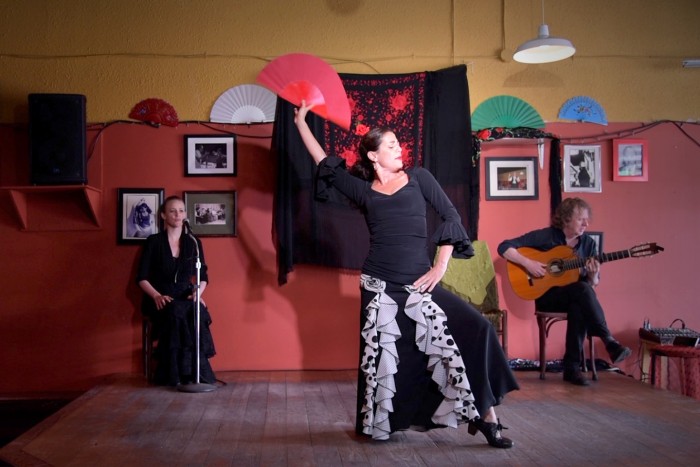 Liat Har-Lev
Liat Har-Lev ( lili laflamma is her Facebook name ) has been dancing Flamenco for over 10 years. She was trained at Al Mozaico Flamenco dance academy, Centro flamenco, Karen flamenco, as well as Oscar Nieto. She actively takes courses and workshops with many guest artists such as Adela Campallo, Pillar Ogalla, Belen Maya, Emilio Ochando , Beatriz Morales, and many more. She has also pursued her flamenco studies in Spain with many great flamenco artists such as Angel Atienzo, Alicia Marquez, Mercedes Ruiz, La Monta, Irene La Sentio to name a few. She performed at the Vancouver flamenco festival in 2017 & 2019 and is a regular tablao dancer in venues like Kino cafe and The Chai Lounge in Vancouver. She performs in various community events in the lower mainland, as well.
The passionate, expressive, and challenging nature of Flamenco drives Liat to dance and perform. She continuously explores this art form kinaesthetically, musically, and artistically.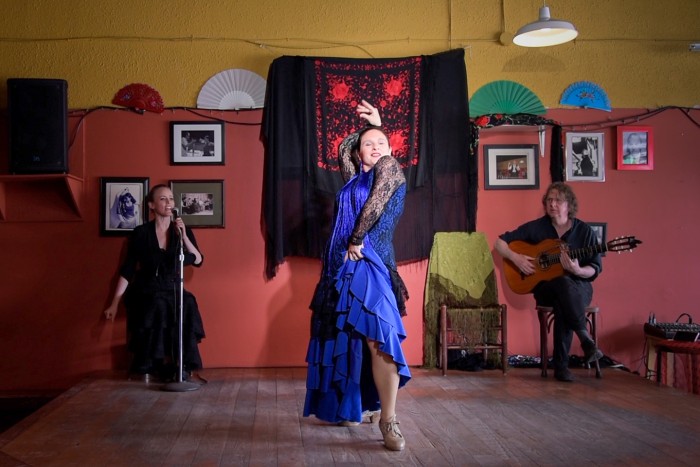 Kara Wiebe
Kara was first introduced to flamenco 6 years ago. She was a competitive gymnast and modern jazz dancer in her youth but back injuries forced her to quit while still a teenager. As a young adult, she spent several years living and travelling throughout Spain and fell in love with the people, culture and zest for life there. Eighteen years later, back in Canada, she decided to return to dance again, this time trying flamenco. She fell in love with it the first lesson and has not stopped dancing since. She has been studying with Kasandra "La China" in Vancouver for the last 2 1/2 years. Kasandra has been teaching her the fundamental elements of flamenco puro, as well as helping develop her own personal flamenco style. Last summer, after taking workshops with Inmaculada and Domingo Ortega in Miraflores de la Sierra, she was granted a scholarship to return again this year. Kara performs regularly with Mozaico Flamenco at local tablaos, theatres as well as community festivals like the PNE and Vancouver Flamenco Festival. Kara will be performing a Tientos number called "La Tormenta".
---