---
Del Flamenco al Son
This event is on July 23, 2020 at 6:45 pm
---
Josué Tacoronte shares his flamenco guitar music with us all the way from Mexico!  Presenting the pure rhythms of traditional flamenco with influences of Latin music and Jazz.  Josué is joined in performance by Paulina Alvarez Izquierdo, Alberto Solis, Cecilia Ochoa, and Teresa Olaya.
Meet the artists of Del Flamenco al Son:
Josue Tacoronte Otero (Guitarist)
Acclaimed by the critics, Josué Tacoronte, guitarist, composer and musical arranger was born in Havana, Cuba. He began his musical studies at the age of six with the piano. At the age of ten, he enrolled in the Guillermo Tomas Conservatory of Guanabacoa, receiving his first formal classical guitar lessons by Rosario Castro. He continued his higher guitar education at the Amadeo Roldán National Conservatory graduating in 1996, under professor Roberto Kessel. As a student he won four national contests at the Amadeo Roldán National Conservatory and received the first place for Best Interpretation at the Guillermo Tomas Contest. Since then he achieved a highly successful performance career.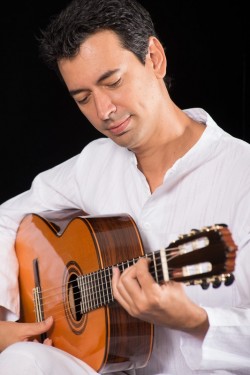 In 1997 he ventured out into playing Spanish flamenco guitar working as a composer, music director and musical arranger at the Spanish Ballet of Cuba, and Aires Flamenco Company in Havana, Cuba; also In Mexico, with the Ballet Español Proart (2001-2010), Cale Bari, and Mexico Flamenco (2011-2013). During this time he attended a number of master classes with many outstanding teachers such as, Antonio Rodriguez, Pedro Sierra, Paco Jacana, Jesus Torres, José Luís Rodriguez, Eduardo Rebollar, Pedro Sanchez and Antonio Rey.
One of his most important musical achievements has been his consistent contribution on research, musical arrangements, performance and recording of the Cuban guitar repertoire that includes pieces by composers such as Leo Brouwer, Ernesto Lecuona, amongst others, crossing over into other genres such as flamenco without losing Cuban essence.
In 2007 he recorded his first album "Josué Tacoronte y Skpao" with original music that took him back to performing again in Cuba. In 2010 he released his second album "Mexico Flamenco ". And in 2012 he recorded "Brouwer Flamenco" produced by Leo Brouwer itself and for which he was awarded "Best Concert Interpreter" at the International Festival CUBADISCO Awards, in May 2013.
He has given several guitar recitals in different concert halls and main theaters of Cuba. His performances have also taken him to countries such as Spain, Argentina, USA, Switzerland, Austria, Morocco, France, Dominican Republic, Peru and Mexico. He has performed in numerous International festivals and shared the stage with a staggering number of artists of different backgrounds and genres.  Josué has performed with Flamenco greats, Jose Luis Lara, Carlos Piñata, Joaquín Grilo, Diego Garcia, Juan Pinilla, and Manolo Marin, to name a few.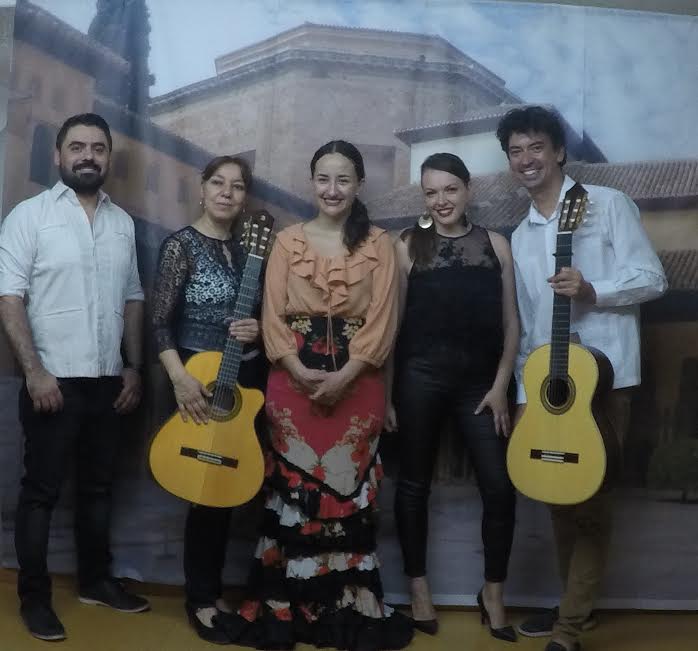 As a soloist, he has performed in Cuba with the Havana Youth Orchestra and in Mexico with the Queretaro Philharmonic under the baton of directors Jorge Lopez Marin and Esperanza De Velasco.
Tacoronte has been a member of the jury in several international guitar competitions and has given a number of workshops and master classes in several International Guitar Festivals, Music Universities and Conservatories.
He performed as a guitar instructor at Centro Proart (2001-2010), Instituto Tecnológico de Monterrey Campus Querétaro (2003- 2004) and currently performs at the Ensamble Music and Dance Academy as Director. He founded the Cultural-Ensamble Festival in Queretaro, México, now on its fourth edition.
He is an active member of The National Union of Writers and Artists of Cuba (UNEAC). The Cuban Association of Musical Author's rights (SGAE). Alhambra Guitar, using new model flamenco guitar (Mengual & Margarit)
Cecilia Ochoa (Dancer)
Cecilia Ochoa is a Mexican Flamenco Dancer from Guadalajara. She has danced since a very young age, beginning ballet classes at age 4. She also developed skills in jazz dancing in Guadalajara.  She was 14 when she discovered Flamenco in the city of Querétaro where she had moved with her family. Her professional studies in this art began in "Proart Center", one of the best Flamenco schools in Mexico and home of the renowned International "Festival Iberica Contemporánea" in which she has also participated as a student.
She began working as a Flamenco Teacher in Proart at age 16 and taking lessons with what later became "Ballet Español Proart". She participated in many festivals and events during this period of time, as well as "tablaos".
Cecilia has taken Flamenco classes and courses in Cuba with the Ballet Español de Cuba.  When she finished high school she moved to Madrid, Spain, to study flamenco in the "Amor de Dios" Academy with teachers such as La Truco, Cristobal Reyes, Miguel Cañas, María Juncal and Manuel Reyes among others.
After returning to Mexico she continues her path teaching Flamenco and pursuing her own development as an artist by taking classes with teachers such as María Pagés, La Talegona and La Lupi. She has performed in many Mexican cities, in Spain and in Cuba as well. She truly believes the most important thing about this art is to portray and express your feelings and personality through Flamenco; technique is very important as well as practice but, the most important thing is to be yourself and to give into the magic of Flamenco… That is what makes a true artist.
Paulina Alvarez Izquierdo (Singer)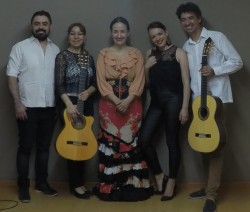 Mexican singer, music educator, vocal coach. She was born in the city of Querétaro, Mexico. Known for her expressive voice, her repertoire includes some of the masterpieces of the world repertoire, as well as Mexican and Latin American folk treasures.
She began her musical studies in the city of Querétaro where she became known as a singer and songwriter. Sharing stage and performing with various artists of different musical genres in national and international forums including the Cervantino Festival, Dance Theater, Parch Guitar Festival, Chihuahua International Festival, Santiago de Querétaro Festival, Puebla International Festival among others. As well as the América Theater of the City of Havana and the Terry Theater in the city of Cienfuegos, sharing the stage with Cuban artists such as Janet Rodríguez, Danny Villalonga, Manolo del Valle.
He has collaborated as a vocalist in various projects, among others, Brouwer Flamenco, winner of the first prize at CUBADISCO, also taken to important international guitar festivals. In 2017 she represents Mexico with the duet "Viva México" and "México Flamenco" with cuban guitarist Josué Tacoronte in cultural forums in Italy, Basel, Switzerland., "Festival Am Bach" in Gotzis, Austria.
In 2020 she released "Ya Dios dirá", her most recent album. Where she sings with different genres and styles important themes of world music repertoire with a unique style, with a program of the most outstanding songs from Mexico, Portugal, Canada, Italy, the United States, South America and Cuba; island where guitarist Josué Tacoronte was born, who arranges the latest musical projects with his virtuoso accompaniment on guitar.
For five years he has been interested in vocal research and education. Regarding to her teaching background, she develops singing and vocal health workshops that have been included in state cultural development programs such as "The meeting of Huapangueros children and youth from the Sierra Gorda" as part of the Cultural Development program of the Huasteca.  She is co-founder of the Ensemble Cultural Festival, which is currently in its fifth edition that promotes art and music in Querétaro in children, youth and adults.
Alberto Solis (Percussionist and Singer)
Born in Querétaro; Alberto Solís is an independent mexican artist on the pursuit of a new sound from his country. Inspired by a family tradition, music and art have been an intrinsic part of his creative path since very young.
Studied flamenco guitar and percussion techniques since the age of 16 under the direction of cuban guitarist and composer Josué Tacoronte, whom which he shared the stage along Mexico, the Caribean and Europe; inicially as part of the Spanish Ballet Proart. Along his musical path he discovers and explores his voice as his main expression media. In 2010 he debuted as a singer over national and international stages. In 2012 he participates on the project "Brouwer Flamenco", conceived by the guitarrist Josué Tacoronte and produced by legend cuban composer Leo Brouwer, presented on the IV Chamber Music Festival Leo Brouwer in Havana, Cuba. Later on presented on the Dominican Republic, Switzerland, Austria and México where he shared the stage along with musicians like Niurka González, Rui Adrián Lopez Nussa and Juan Falú. In 2014 he starts a new season in San Miguel de Allende with the guitarrist Gil Gutiérrez and the cuban jazz pianist Gabriel Hernández, in a fusion jazz project; initiating his exploration along diferent genres, maily within latinamerican music and sharing the stage with musicians like Doc Severinsen, Lorenzo Toppano, Adriana Valdés and Camille García.
In the summer of 2014 he debutes in the USA with a new project at the Belleayre Jazz Festival in New York, along with the jazz guitarrist Pablo Reyes and the bassist Bam Ban Rodríguez.
From 2015, he started formalizing his definition as a Flamenco singer, deepening within the genre with teachers like Rubio de Pruna, Juan Triviño, Basilio García, Chelo Pantoja, Iván Carpio and Jesús Corbacho, sharing tablaos with national and international Flamenco artists.
Tere Olaya (Guitarist)
Teacher, Teresa Olaya, originally from México City, comes from a family with a long history in the musical field. She began her guitar studies at an early age, concluding her studies at the UNAM National School under the tutelage of Master Eloy Cruz Soto.
During her carrer, she won 1st Place at the Chamber Music Contest, representing the Institution in various states of the Mexican Republic.
In addition of her classical training, she has dabbled in various musical genres such as Jazz, and in recent years in the Flamenco Guitar with the advice of her teacher Josué Tacoronte.
She has performed at various guitar festivals and is currently part of the AMUZA quartet and the ALHAMBRA duo.
---