---
Calle Verde
This event is on July 25, 2020 at 6:45 pm
---
Based in Vancouver, BC, Calle Verde is a group of flamenco artists steeped in tradition, but not necessarily traditional. Calle Verde is a forum for experimenting with musical and choreographic ideas that soften the boundaries between flamenco and other forms. Calle Verde says, "Our aim is to present works that are authentic to our experiences as artists, acknowledging our backgrounds and influences, while maintaining a deep respect for traditional flamenco forms and expressions."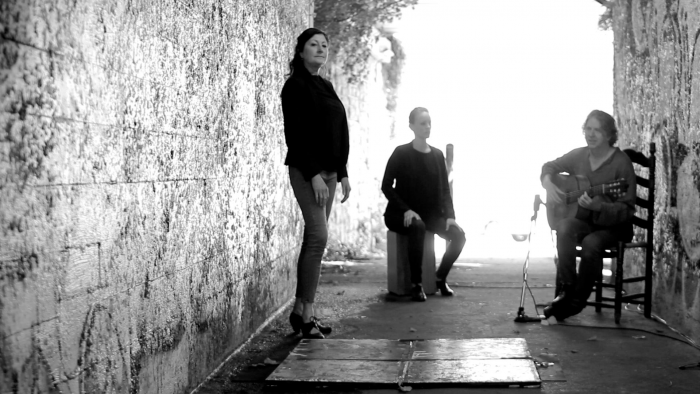 Meet the Artists of Calle Verde:
Peter Mole (Guitarist)
Peter has been playing flamenco guitar for more than twenty-five years. He has performed across Canada and in every major venue in Vancouver, including the Queen Elizabeth Theatre, the Chan Centre and main stage at the Vancouver Folk Festival. He composed and performed the music for "Mariposa: The Butterfly's Evil Spell", at the National Arts Centre in Ottawa and performed and composed the score for the NFB documentary "Opre Roma" with "Los Canasteros".
Peter introduced flamenco to Vancouver's legendary Kino Cafe in 1994 where he continues to perform today. His musical training began at the McGill University Conservatory of Music followed by studies Sevilla and Jerez de la Frontera, Spain to embrace flamenco, his latest trips being funded by the Canada council for the Arts. He currently performs with Calle Verde , Daniela Carmona & Las Sombras Flamenco Ensemble.
Maria Avila (Dancer, Singer, Percussionist)
Maria Avila has established herself as an independent dancer, choreographer, and teacher. She is an accomplished singer and dancer and a respected leader in the local flamenco community. Recent achievements include pursuing a MFA in Dance at York University, being awarded a mentorship to study with Myriam Allard. She has received professional development grants from Canada Arts Council and BC Arts Council to study in Sevilla, Spain, as well as performing in the Coetaní Experimental Flamenco Festival in Athens, Greece. Locally she has trained at Al Mozaico Flamenco Dance Academy, Karen Flamenco, and completed Centro Flamenco's professional training program. Maria Avila currently performs most often with Calle Verde and La Triana.
Michelle Harding (Dancer, Percussionist)
Michelle is one of Vancouver's popular tablao performers, known for her improvisational instinct, rapid-fire footwork and engaging presence. Always interested in the processes of collaboration and experimentation, she has worked with many artists from outside the usual scope of the form to innovate and challenge expectations. She has worked with such diverse artists and groups as The Plastic Acid Orchestra, Tyson Naylor (jazz pianist), Mashregh (Persian- flamenco fusion), Krystle dos Santos (jazz-soul singer), Piper Cole (singer-songwriter) the Orchid Ensemble and Silk Road Music. She currently performs most frequently with the Raíces y Alas Flamenco Project and Calle Verde.
Michelle has danced in dozens of professional presentations including performances at the Vancouver International Flamenco Festival, Victoria Flamenco Festival, Coetani Experimental Flamenco Festival (Greece) and many productions with Mozaico Flamenco Dance Theatre. She has performed and taught from coast to coast in Canada, including a continuing residency project with the Festival of New Dance in St. John's Newfoundland. Her extensive studies in traditional flamenco as well as classical Spanish dance in Spain have been funded by the Canada Council. for the Arts.
---