About
---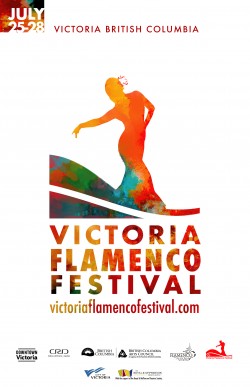 2019 VICTORIA FLAMENCO FESTIVAL
Victoria comes alive with the passion and rhythm of Flamenco music and dance! The 7th annual Victoria Flamenco Festival runs from July 25 to 28 and showcases local and national dancers, singers and guitarists collaborating to bring their love of this fiery art form to the stage. Be inspired by free "por fiesta" performances at Cameron Bandshell on Friday afternoon and invigorated at Centennial Square on Friday evening, Saturday and Sunday afternoons with the powerful line-up of local, regional, aspiring and professional flamenco artists. Enjoy our ticketed events; Flamenco Music Night at Hermann's Jazz Club on Thursday evening and our showcase, La Otra Orilla, on Saturday night at the McPherson Playhouse.
Flamenco de la Isla was formed in June of 1998, and incorporated as a Society in July of 1998. The board of directors was formed by students and afficionados of the art of Flamenco.
Learn more about the Flamenco de la Isla Society at our website
As presenters of the Victoria Flamenco Festival we are proud to support Flamenco on Vancouver Island.
VICTORIA FLAMENCO FESTIVAL 2019 from CHEK on Vimeo.
---